So many trips, so few vacation days.
As it currently sits (4/7/2023), I have two big trips planned this calendar year.  Trip 1 is 6 days on the Appalachian Trail, trying to do all 73 miles of trail through the Great Smokey Mountain National Park.  Trip 2 will be 9 days at Philmont Scout Ranch in Cimarron, New Mexico doing 68 miles on "super strenuous" trek #9-12.  Trip #1 will be in conjunction with Chris and his daughter, while trip #2 will be in conjunction with San Antiono Boy Scout Troop 485.  The trips that were under consideration for this year that will have to wait include portions of the Ouachita Trail between Oklahoma and Arkansas, portions of the Superior Trail in Minnesota, and portions of the Colorado trail in, well, Colorado.
I looked ahead at my company's vacation policies to discover that in just 4 more years (2027) I will be getting an extra week of vacation.  Woot Woot!  I'm already planning on how to spend those days!
Tina's knee surgery last November went well.  She's essentially fully recuperated now and is joining me on training hikes.  She's still building up strength and pack weight, but that's to be understood.  Hopefully we get a chance to take a several day trip over Thanksgiving week later this year.
Anyway, as all I can do between now and the trips is practice hikes and obsess on gear, I've taken to MYOG (Make Your Own Gear.)  So far I've done simple stuff - a ground sheet, a pump sack, a UL Talon for my Seek Outside Unaweep, and various stuff sacks.  But I'm about to try my hand at an actual garment:  I'm going to try to make a pair of UL shorts.  My objective is to make something that fits/is comfortable but weighs significantly less than an off-the-shelf solution I already have.  We'll see.
So, yeah, still obsessing about every little detail and on the quest to lower base weight.  I'm pretty happy with my Lighterpack predicted base weights for both planned trips.  Trip #1 will probably be somewhere between 6.99 and 7.82 pounds, with a fully-loaded pack less than 17 pounds.  That will be the first big trip for the Dandee custom leaf-printed pack.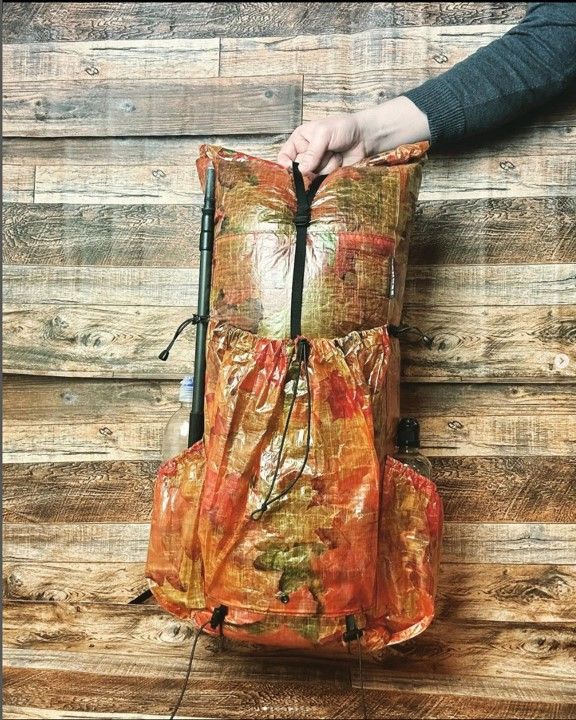 Trip #2 (Philmont) will be the second big trip for my Durston Kakwa-40.  I'm getting creative here to blend the recommended packing list with my UL gear to keep the pack weight down.  My current estimated base weight is 9.69 pounds with a total max estimated pack weight of 28.26 pounds when fully loaded with 3 days of food, 4.7 liters of water, and the group gear I estimate I'll be carrying.  That's a pretty incredible estimate when you consider most Philmont attendees will likely be carrying over 40 pounds at that point.  Part of the deal with Philmont is that the group gear is heavy and the food is bulky.  They have a large list of recommended and required items, some of which I would not normally bring.  I've done my best to minimize the weight on those items as much as possible.  I've also gotten creative to dual-purpose some gear.  For instance, they highly suggest a day pack in addition to a 50-60 liter main pack.  I am planning on taking my Durston Kakwa-40 with my 4-ounce, 18-liter Osprey stuff-pack strapped to the outside to provide 58 liters of capacity while still keeping my "infrastructure" weight almost two pounds lighter than if I were to take the larger Seek Outside pack.  
Another big thing I've done is take it upon myself to "thrift" down the required Wilderness and Remote First Aid kit.  The kit I produced back in 2019 was excellent in it's contents and packaging, but weighed in right at 5 pounds, 1.35 pounds of which was the bag itself.  By carefully scrutinizing each item, finding lighter substitutes for some, reducing redundancies of some, and making a new UL bag, I have been able to cut that weight by over half.   It now weighs in at 2.41 pounds, and has a spiffy custom-printed silpoly stuff sack.  The motif on the stuff sack was a screen capture off of a YouTube video of arial photography of Philmont.
Pretty spiff!  I am really liking Ripstop.  A yard of the above image made 6 bags yet cost me only $21!
If you're curious, here are links to the Lighterpack.com lists for my GSMNP trip, my Philmont trip, and the WRFA bag.
Keep hiking my friends.