6 days, 73 miles, 21,500' climb. Weather - almost certainly rain. Type 1, 2 or 3 fun?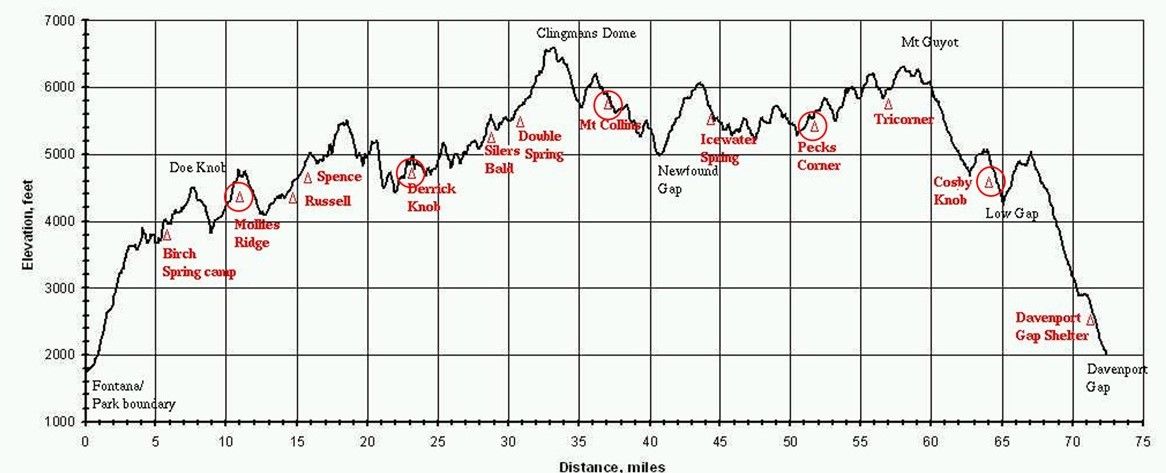 Brian, Chris, and Maxine.  Will we make it?  That's the big question.  Certainly that first day is going to be a killer.  Nearly 5000' of climbing, and our packs full of food!  Boo-yah!  That's going to be a challenge.  For reference purposes, here is a tabulation of the trip plan:
This will be the first hard-core test for many items in my kit, and a shakedown for some concepts ahead of the Philmont trip later this year.  I am going to go full Ultralight on this trip: base weight  7.6 pounds, total pack weight 16.5 pounds.
I plan on sleeping in the shelters since we have to reserve/pay for them anyways.  I'm bringing a tarp and bivy strictly as a backup and contingency.  Other significant things I'm going to do:  1) take my UL CRO/MYOG 40-degree quilt, but pair it with my new 4-season Timmermade SDUL puffy, 2) take my Uberlite short supplemented by a sit/butt pad to sleep on, 3) plan on using an umbrella for primary rain protection, supplemented by my Timmermade rain jacket.  4) Use all home-dehydrated meals for dinner.  5) Share group gear with Chris.  6) If I can get them in a suitcase - try out a new pair of UL trekking poles.    
Lighterpack list:  https://lighterpack.com/r/q7xzlz
Wish us luck!