My pre-trip planning documents for the LSHT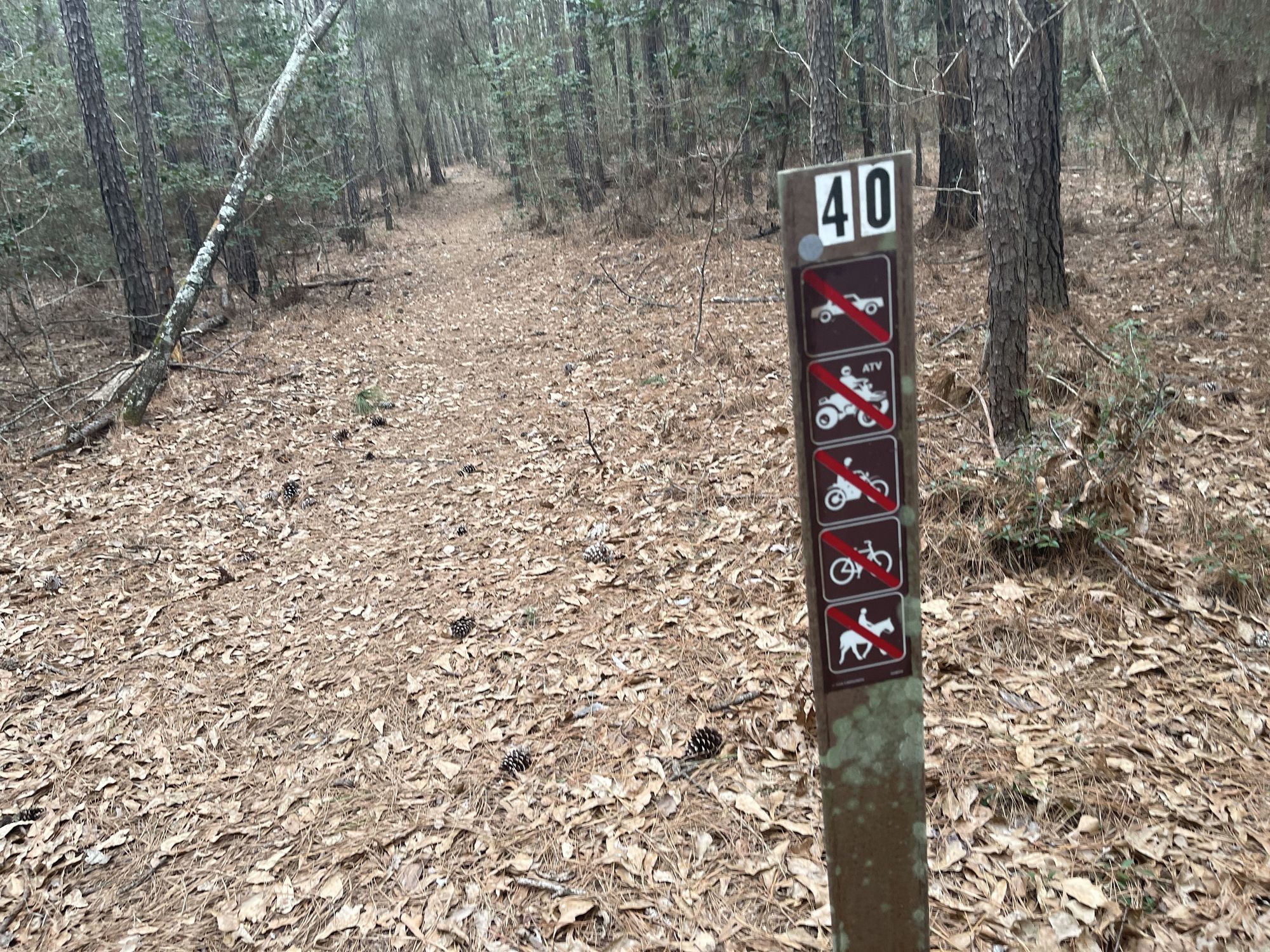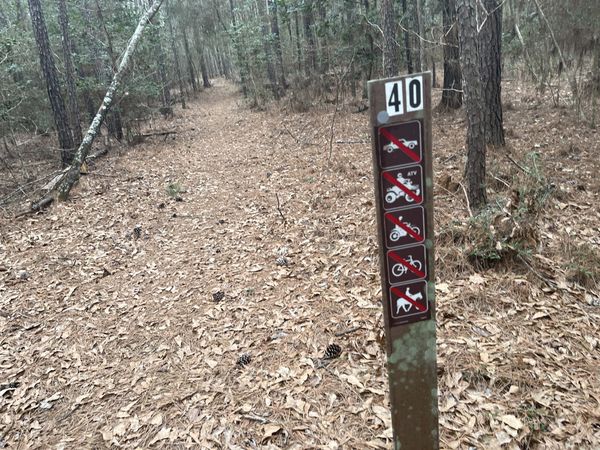 Had someone ask me how I plan for a backpacking trip. I'm sure everyone's planning system is completely different. Mine varies greatly by what the hike is. Some hikes are more about route planning and making sure you have good maps and know the elevation changes and distances. For the Lone Star Hiking Trail for me it was really all about just collecting ideas in one place for sanity.
Personally, I'm a strong believer of putting pen to paper or keys to keyboard any time in life when you need to figure things out. The simple act of writing down stuff, even stuff you already know, helps sprout other, important discoveries. The following document is an example of me planning for a the trip on a well known trail. This is my verbatim, unedited planning doc except for changing a link that showed directions to my house.
---
Let's do this!
The goal is to get Rob out March 5-7th for some serious hiking! Likely start Friday the 4th after work with some car staging and then testing out our gear Friday night with a car camp to see if we need any adjustments.
For planning, Sunrise is around 6:45AM and Sunset is around 6:20PM
BAM Starting on Wednesday, March 2nd morning, leave my car at TrailHead(TH) #15, the end,  and meetup with Rob at TH10 on Friday evening. That would "only" have me hiking 21 miles a day. More likely  There are several trail angels who LOVE driving people from one to the other for some reason and they take pride in giving more rides than others. In that situation, I would use one of them to get from TH15 to TH1.
Scenario 1 - I'm able to get started on Wednesday March 2nd!
I would arrange a trail angel shuttle and park at TH15 and shuttle to TH1
Wed - leave Austin by 5AM to arrive at TH by by 8:30AM
Directions: https://bit.ly/3H73XXX
Trail angel or uber to TH1: https://bit.ly/3sSbCZw
Start hike around 10AM and hike until 5PM
7 hours, 2.5mph average, roughly 18 miles
Camp at Stubblefield Lakes Recreation area
Has water and toilets…fancy!
Thursday
Up and eating breakfast by 5AM for some awesome headlamp hiking! It actually is a pretty cool experience but not for those who scare easily. Usually get to see more deer and other animals.
Probably done with breakfast and coffee and packed up by 6AM and on the trail!
Hike hike hike! Probably shoot for 10-11 hours, roughly 28 miles to get to the 46 mile mark and camp by Boswell Creek somewhere. Just wild camp!
Alternate camp option if 28 feels like too much is camp at Four Notch Hunter Camp, TH8. which is about 25 miles
Friday
Up and eating breakfast by 6AM and on the trail by 7AM!
Depending on camp spot Thursday, 20-24 miles to TH10 to meet with Rob!
Rob will have water and resupply at car!
Car camp with Rob near TH10
Saturday
No rush. Probably up around sunrise, relaxed breakfast, pack up, and maybe on the trail by 8:30-9AM
This section of the hike is called the "Magnolia Section" and apparently is the most beautiful part! Only a few road crossings and no road hiking and tons of amazing trees and a few lakes.
HIKE! Starting at TH 10 it is 100% wilderness for just over 30 miles!
Several camping options.
First, we could stop at Double lake campground. A bit off the trail and they charge for camping but you are by a lake and they have fresh water and bathrooms. This is about 8-9 miles from start
Second, we push on and stay in primitive camp or wild camp in the woods! Just want to make sure and fill up water at the 12 mile mark, Big Creek crossing, just in case things are dry. In dry times there is a 13 mile gap between water but I suspect it will be fine and water often for us but best to be safe and fill up!
We'll take breaks often, shoot for averaging about 2mph. If we go to Double Lake, should be there around 2-3PM. If we wild camp or primitive camp, probably more like 4pm.
Make camp fairly early, live like kings, possibly use ipad for music/shows! Depending on location and weather, make a fire!
Sunday
No rush! On the road by 9 or 10AM
Hike to Mercy Primitive camp, depending on previous day about 10-13 miles
Fire ring at camp sites so we should definitely make a fire, weather permitting
Monday
No rush, up and hiking whenever
Only about 8 miles to the car so could easily finish up by noon if we wanted to!
We'll end at my car and I'll shuttle you back to yours. Only a 15 minute drive
Maps:
Google interactive map I use the most for high level planning. This has maps embedded in the links for each TH
Alltrails map I use for clean interface and trail distances
Good map of the section both of us will be on
Good map of the west half
Directions from TH15 to TH 10 - 15 minutes
Directions TH15 to 1 - 45 minutes
Directions TH1 to 9  - 40 minutes
Other links:
List of where water and camp sites are found! CRITICAL! Need to download this
Map of cell coverage. They CLAIM it is GREAT all the way through with a mix of 4g and 5g
What Chris is either carrying and Rob won't need or that Chris is bringing
Cooking stove and fuel. Currently planning on bringing Esbit fuel for stove but might switch to gas and use Jetboil Stash depending on weather. Either way, I'll have it covered. I'm probably taking 3 pot/cups. The Jetboil stash 27 ounce pot with heat exchanger fins, a 700ml and a 550ml Toaks titanium bowl/cups. 27 ounce pot just for heating water, 700ml(1.8oz with handles removed) w/ultralight insulation cozy for meals, 550ml toaks for drinks.
iPad and keyboard!  :) So I can write/work on the trail or watch a show if I quit early some day
Booze… You might want to bring some too. Probably taking a 12 ounce Canadian whiskey flask. Goes great in hot cocoa at night and you need all the calories you can get while hiking, amirite?  :)
What Chris is loaning rob either by mailing it (soon!) or bringing it to TH if we go Scenario 2
Sleeping Pad - Thermarest Neoair Insulated and light weight at around 12 ounces.
Fuel refill if doing esbit
Tent! 2 man luxury Six moons tent, a bit under 3 pounds
Tent stakes
Sleeping bag, "25 degree" rated but more like 35 based on personal experience in stuff sack
Cheap headlamp if needed
If scenario 1, extra battery pack
A few light weight stuff sacks for organizing things if you want
Food for resupply if Scenario 1
What Rob needs to bring:
2 1 gallon water jugs (or 2.5g big plastic water jug with spout from HEB) This is for first night of car camping/resupply Chris!
Optional but cool: Bring a fire log for the first night. You know, just the $4 fake firelog things you can buy at the store, weigh about 6 pounds. They are great for campfires when car camping
Lightish headlamp or flashlight. I have a decent headlamp you can borrow but nothing special.
A pot or bowl to eat out of if you aren't doing all Mountain House, eat in bag meals. Might want to take one pot/cup and use it for food/coffee/cocoa/booze.
Todo in prep:
Chris: leak check pads - CHECK! Done. Both pads held air for 8 hours with 150 pounds of plate weights and barbells on them. No noticeable sinking.
Chris: Charge all 3 battery packs, send heavy one to Rob for refuel, just in case it is needed
Make a video of my backpack and what I'm taking!
Meals:
Shuttle options:
Charlotte Tomkavits 936-577-7293 (Has Airbnb in Huntsville area; will shuttle anywhere on the trail).
Uber/Lift Driver Lee Ashby; Montgomery, TX native familiar with the trail. ashbyslogistics@gmail.com; 832-559-0344.
Uber Driver Lee: +1 (936) 668-2429; good hiker testimonial.
Reliable Quick Service Taxi from Huntsville 936/295-3606; $1.20/mi, 24 hours, will service trail "near town"; variable but will always service Huntsville State Park.
Taxi Service: West side: Conroe – CVS Taxi Cab (936-537-5829)
On Time Cab (936) 539-1057. East side: Cleveland - 350 Cab (936) 328-8181.
Questions to ask the LSHT group on FB:
---
Here is my food breakdown. This was stored as a Google spreadsheet that can be viewed here: https://docs.google.com/spreadsheets/d/1u5heph8vcYQh9nU1pWjzhB2I_iOZ16GbLOe1EdruybQ/edit?usp=sharing
My usual trail plan for food, even for 20+ mile days is to shoot for around 2500-3000 calories. You're usually not hungry the first few days on the trail as your stomach tightens up. About day 3 or 4 though, I eat it all and the early days leftovers! My plan is always the same, big breakfast, snack through the day but no lunch and no stops, and then big dinner.
Also, I tend to plan on getting a fair number of calories from drinks. I drink Laird Coffee for breakfast and usually have two full servings. To go with dinner I usually have several hot cocoas.
I usually try to make sure I get at least 100 grams of protein a day if not more. I also do not shy away from fats at all. For carbs, I avoid them when I can but it seems all the foods I like are heavy on the carbs/sugar. There is a misconception that for energy on the trail you need lots of carbs. That is true for more aerobic stuff, like running, but for hiking you really don't need many carbs as you body can easily process fats fast enough to sustain you. Fats are more than twice the calories per ounce of carbs/proteins so grab them whenever possible!
Also, in the plan below, day 1 is small because it doesn't include breakfast. My usual breakfast for the trail is one of two things. Either it is Mountain House Biscuits and Gravy because YUM or it is a double or triple helping of oatmeal with Hemp Hearts mixed in! Hemp hearts are freaking amazing for mixing into foods. First, they are hardly noticeable. They are fairly soft in texture and not much taste other than a tiny hint of nuttiness.  Second, 180 calories per ounce and it is all either really healthy fats or it is protein! If I'm ever worried about calories or hunger I always just take along some extra hemp hearts and mix them in with whatever aim eating.
| Day | Meal | | Weight | Calories | Cal/ounce | Fat | Carb | Protein |
| --- | --- | --- | --- | --- | --- | --- | --- | --- |
| 1 | Snack | Kirkland Praline Pecans | 2 | 300 | 150 | 22 | 30 | 2 |
| 1 | Snack | Power Crunch bar | 1.5 | 220 | 146.6666667 | 13 | 11 | 14 |
| 1 | Dinner | MH Beef Stroganoff-debagged | 4.3 | 580 | 134.8837209 | 23 | 63 | 24 |
| 1 | Drink | Hot cocoa double | 2.2 | 320 | 145.4545455 | 5 | 68 | 3 |
| 1 | Totals | | 10 | 1420 | 144.2512333 | 63 | 172 | 43 |
| | | | | | | | | |
| 2 | Breakfast | Oatmeal x2 | 3 | 320 | 106.6666667 | 4 | 66 | 8 |
| 2 | Breakfast | Hemp hearts for oatmeal | 1 | 180 | 180 | 15 | 1 | 10 |
| 2 | Drink | Laird Instafuel Coffee double | 2 | 300 | 150 | 20 | 26 | 4 |
| 2 | Snack | Kirkland Praline Pecans | 2 | 300 | 150 | 22 | 30 | 3 |
| 2 | Snack | Power Crunch bar | 1.5 | 220 | 146.6666667 | 13 | 11 | 14 |
| 2 | Snack | Kirkland Nut Bar | 1.5 | 200 | 133.3333333 | 15 | 17 | 5 |
| 2 | Snack | Milk chocolate Almonds | 2 | 320 | 160 | 24 | 26 | 6 |
| 2 | Dinner | Couscous | 6 | 630 | 105 | 3 | 123 | 24 |
| 2 | Dinner | Olive oil added | 1 | 240 | 240 | 28 | 0 | 0 |
| 2 | Dinner | Babybel cheese added to coucous | 2 | 140 | 70 | 10 | 0 | 10 |
| 2 | Drink | Hot cocoa double (1 normal, 1 low fat | 2.2 | 320 | 145.4545455 | 5 | 38 | 15 |
| 2 | Totals | | 24.2 | 3170 | 144.2837466 | 159 | 338 | 99 |
| | | | | | | | | |
| 3 | Breakfast | Oatmeal x2 | 3 | 320 | 106.6666667 | 4 | 66 | 8 |
| 3 | Breakfast | Hemp hearts for oatmeal | 1 | 180 | 180 | 15 | 1 | 10 |
| 3 | Drink | Laird Instafuel Coffee double | 2 | 300 | 150 | 20 | 26 | 4 |
| 3 | Snack | Kirkland Praline Pecans | 2 | 300 | 150 | 22 | 30 | 3 |
| 3 | Snack | Power Crunch bar | 1.5 | 220 | 146.6666667 | 13 | 11 | 14 |
| 3 | Snack | Kirkland Nut Bar | 1.5 | 200 | 133.3333333 | 15 | 17 | 5 |
| 3 | Snack | Milk chocolate Almonds | 2 | 320 | 160 | 24 | 26 | 6 |
| 3 | Dinner | MH Chicken and Dumplings | 4.5 | 800 | 177.7777778 | 25 | 61 | 33 |
| 3 | Drink | Hot cocoa double (1 normal, 1 low fat | 2.2 | 320 | 145.4545455 | 5 | 38 | 15 |
| 3 | Totals | | 19.7 | 2960 | 149.9887767 | 143 | 276 | 98 |
| | | | | | | | | |
| | | | | | | | | |
| | | | | | | | | |
| 4 | Breakfast | Oatmeal x2 | 3 | 320 | 106.6666667 | 4 | 66 | 8 |
| 4 | Breakfast | Hemp hearts for oatmeal | 1 | 180 | 180 | 15 | 1 | 10 |
| 4 | Drink | Laird Instafuel Coffee double | 2 | 300 | 150 | 20 | 26 | 4 |
| 4 | Snack | Kirkland Praline Pecans | 2 | 300 | 150 | 22 | 30 | 3 |
| 4 | Snack | Power Crunch bar | 1.5 | 220 | 146.6666667 | 13 | 11 | 14 |
| 4 | Snack | Kirkland Nut Bar | 1.5 | 200 | 133.3333333 | 15 | 17 | 5 |
| 4 | Snack | Milk chocolate Almonds | 2 | 320 | 160 | 24 | 26 | 6 |
| 4 | Dinner | Refried Beans | 7 | 800 | 114.2857143 | 12 | 126 | 42 |
| 4 | Dinner | Olive oil added | 1 | 240 | 240 | 28 | 0 | 0 |
| 4 | Dinner | Babybel cheese added to Refried beans | 2 | 140 | 70 | 10 | 0 | 10 |
| 4 | Dinner | Tortillas x6 (Probably some used later | 8 | 720 | 90 | 18 | 114 | 18 |
| 4 | Dinner | Salsa bottle | 3 | 15 | 5 | 0 | 3 | 0 |
| 4 | Drink | Hot cocoa double (1 normal, 1 low fat | 2.2 | 320 | 145.4545455 | 5 | 38 | 15 |
| 4 | Totals | | 36.2 | 4075 | 130.1082251 | 186 | 458 | 135 |
| | | | | | | | | |
| | | | | | | | | |
| | | | | | | | | |
| 5 | Breakfast | MH Biscuits and Gravy | 3 | 580 | 193.3333333 | 20 | 73 | 22 |
| 5 | Drink | Laird Instafuel Coffee double | 2 | 300 | 150 | 20 | 26 | 4 |
| 5 | Snack | Kirkland Praline Pecans | 2 | 300 | 150 | 22 | 30 | 3 |
| 5 | Snack | Power Crunch bar | 1.5 | 220 | 146.6666667 | 13 | 11 | 14 |
| 5 | Snack | Kirkland Nut Bar | 1.5 | 200 | 133.3333333 | 15 | 17 | 5 |
| 5 | Snack | Milk chocolate Almonds | 2 | 320 | 160 | 24 | 26 | 6 |
| 5 | Dinner | MH Chicken and Dumplings | 4.5 | 800 | 177.7777778 | 25 | 61 | 33 |
| 5 | Drink | Hot cocoa double (1 normal, 1 low fat | 2.2 | 320 | 145.4545455 | 5 | 38 | 15 |
| 5 | Totals | | 18.7 | 3040 | 157.0707071 | 144 | 282 | 102 |