Change of Plans
On 4/29/2023 I was doing some yard work and ended up severely straining a groin muscle.  Recovery on something like this typically takes 3-8 weeks, which means I almost certainly have to cancel the upcoming trip with Chris to GSMNP.  Sucks, but what do you do?  Well, look for alternatives on how to spend those vacation days of course!.
My chosen alternative is the Teton Crest Trail (TCT) along the border between the Grand Teton National Park (GTNP) and the Jedediah Smith Wilderness (JSW) area.  The TCT is a very popular route - so much so that getting permits for camping in GTNP can be quite difficult.  They have two systems - a reservation system, and a walk-up system.  The reservation system opens in January of each year and books up/sells out quick.  The walk-up system requires that you show up and stand in line before the ranger station opens the day before you go on the trip and hope you are one of the few who secure their desired itinerary.  However, JSW does not require reservations - it's open camping - within limits - pretty much anywhere in the wilderness.
When people say they did the TCT, they typically mean a 3-5 day route mostly in GTNP, following a route like this.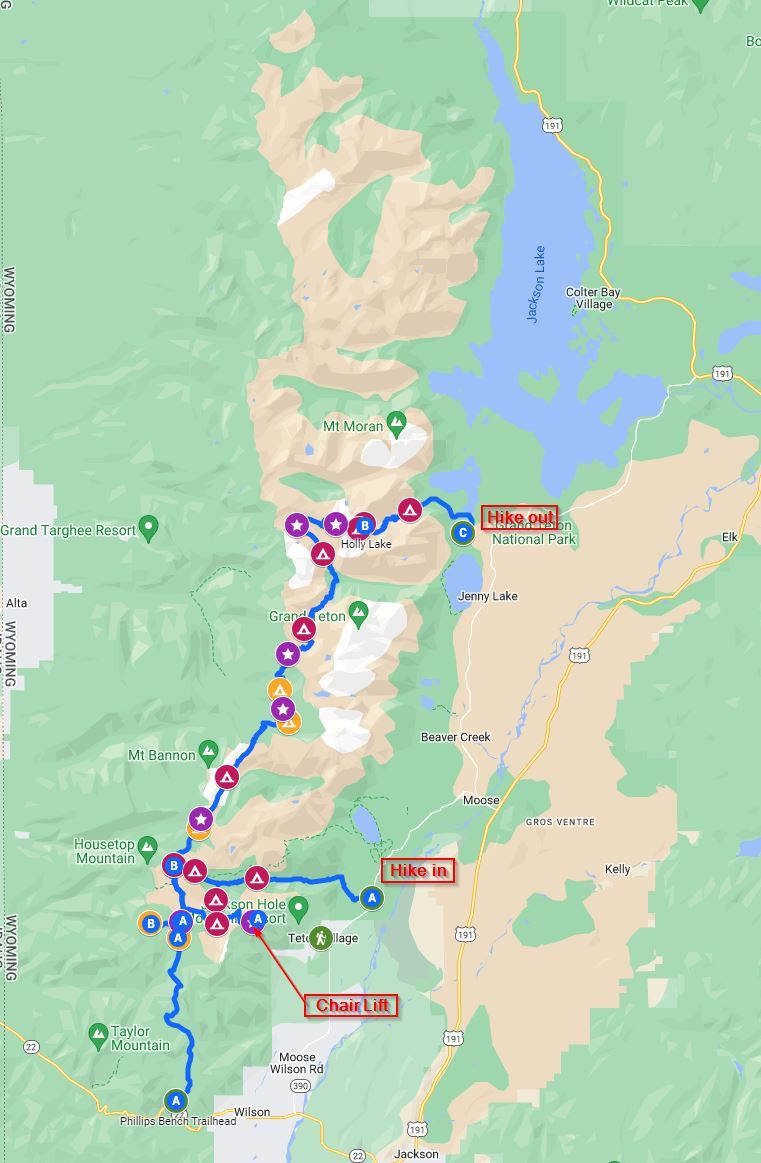 Typically people take the chair lift to the top of Jackson Hole ski resort, then go along the ridge until it meets the Teton Crest Trail, then head north up to Lake Solitude (purple star, upper left, where the trail turns), before cutting back west to end at Jenny Lake.  This takes 3-4 days for most people.  More motivated people can either hike in instead of taking the chair lift, or even start at highway 22 and do the "big climb" to the ridge.  You'll notice, however, that the Teton range extends quite a bit further north from Lake Solitude.  What's not shown on this map is that there are two Teton Crest Trails.  The southern one starts at highway 22 and heads north to Lake Solitude.  The northern one starts at Survey Peak and ends on the side of Littles Peak.  See below
Doing the entire Teton Crest Trail - as opposed to the GTNP loop - requires starting either at Survey Peak or the highway 22 trailhead and hiking to the other.  The benefit of such a trip is the fact it can be planned so all nights stay over in GSW rather than GTNP.  No permits Required!  However, there is the question of how you get from the north part to the south part, or vice versa.  There are generally two options:
1) Go off trail and bushwhack between them
2) Choose a series of side trails that connect the two parts, and either backtrack to complete the sections that were skipped by the re-route or simply skip them.
There are pros and cons to either choice.  The bushwhacking option is the shortest/fastest and means that no backtracking is necessary to complete the entire "TCT" but carries risk of descending a 1400' scree slope - a very advanced technique and potentially dangerous.  The reroute option allows at least 3 different routes, but adds up to 9 miles and 3000' additional climbing/descending.  As of the time I am writing, I have not decided on which alternative/route to take.  Here are some pictures of the options on maps: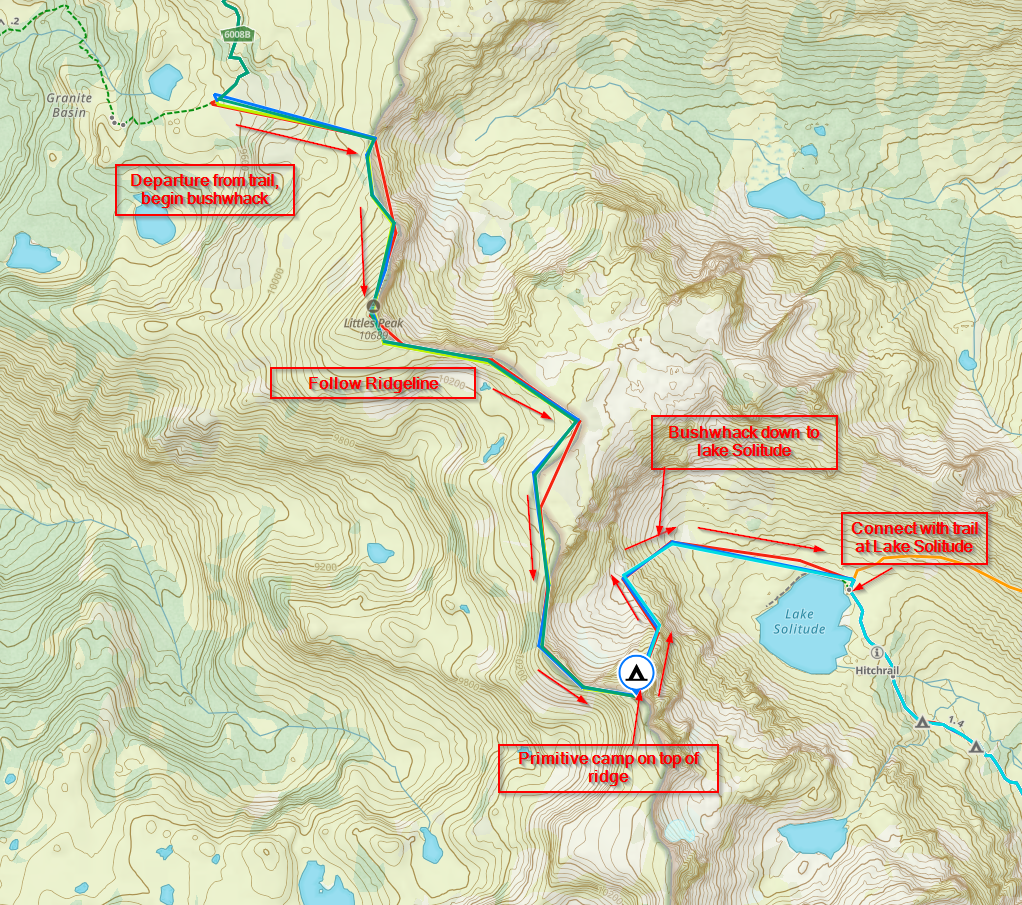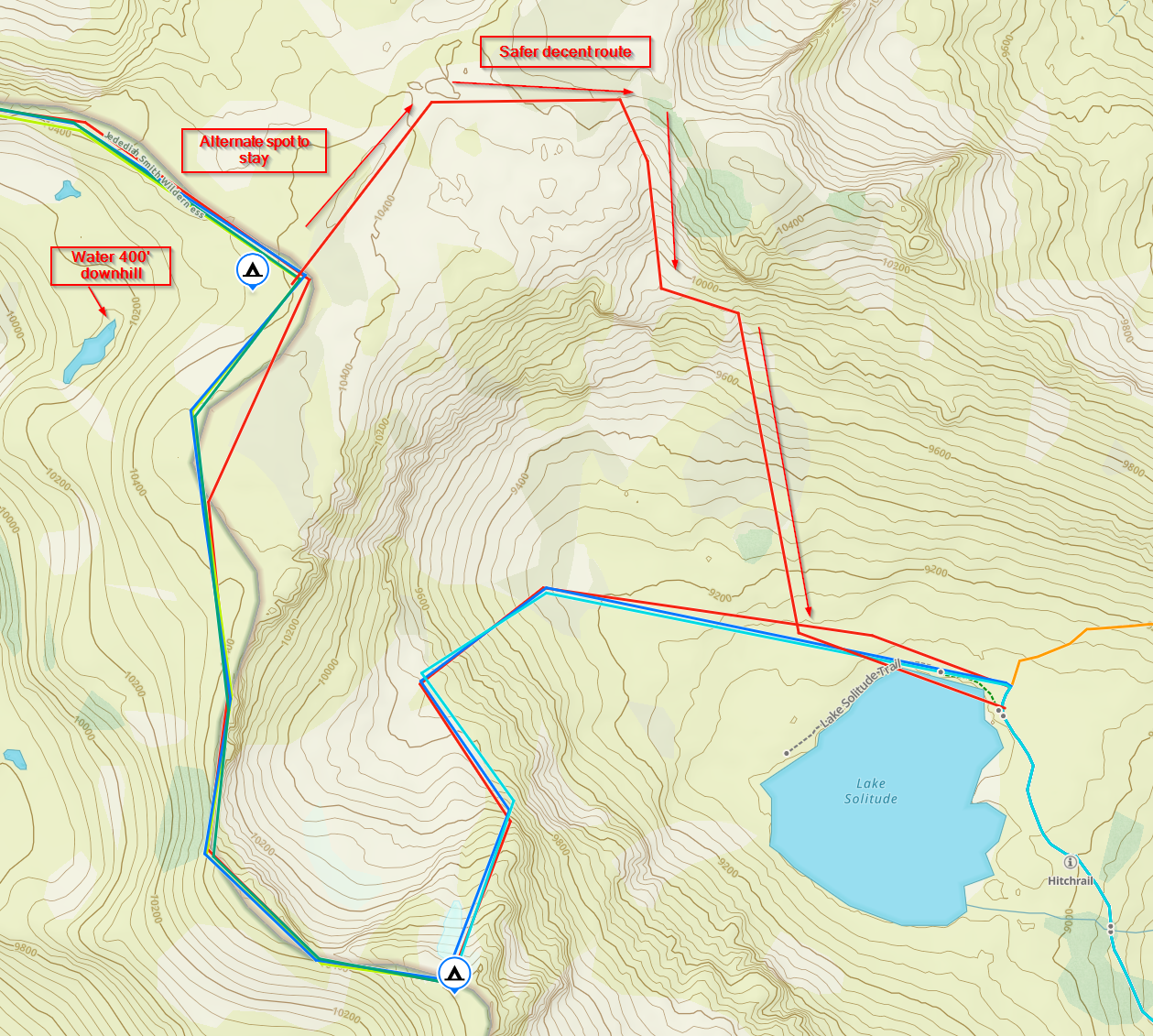 Here is a screen shot of the entire trail, including the various routing options.  Depending on what combination I take, the total length for the trip is between 74-81 miles, and total elevation gain between 20,250' - 23,404,  This trip should be the equivalent of the GSMNP trip that Chris is going to do, only at high altitude!
Other Trip considerations:
Bears:  There are both black and grizzly bears in this area: bear canister and bear spray required.
Temperatures:  I am planning on doing this Labor Day week.  The following shows historical climatic data for Jackson, WY in September.  Jackson is at 6250'.  The route will be anywhere between 7000 - 10,600 feet, with a median elevation ~9000'.  This will mean temps can be expected to be between 9-14 degrees lower than on this chart.  Winter gear will be necessary and below freezing temps will be expected at night.
Rain:  According to climatic data, this area has clear skies 50-60% of the time in September, and only a 17% daily chance of precipitation.  
I'll post again as plans progress.  Keep hiking, my friends.