Colorado 4-Pass Loop Trip Report, August 5 - 8, 2022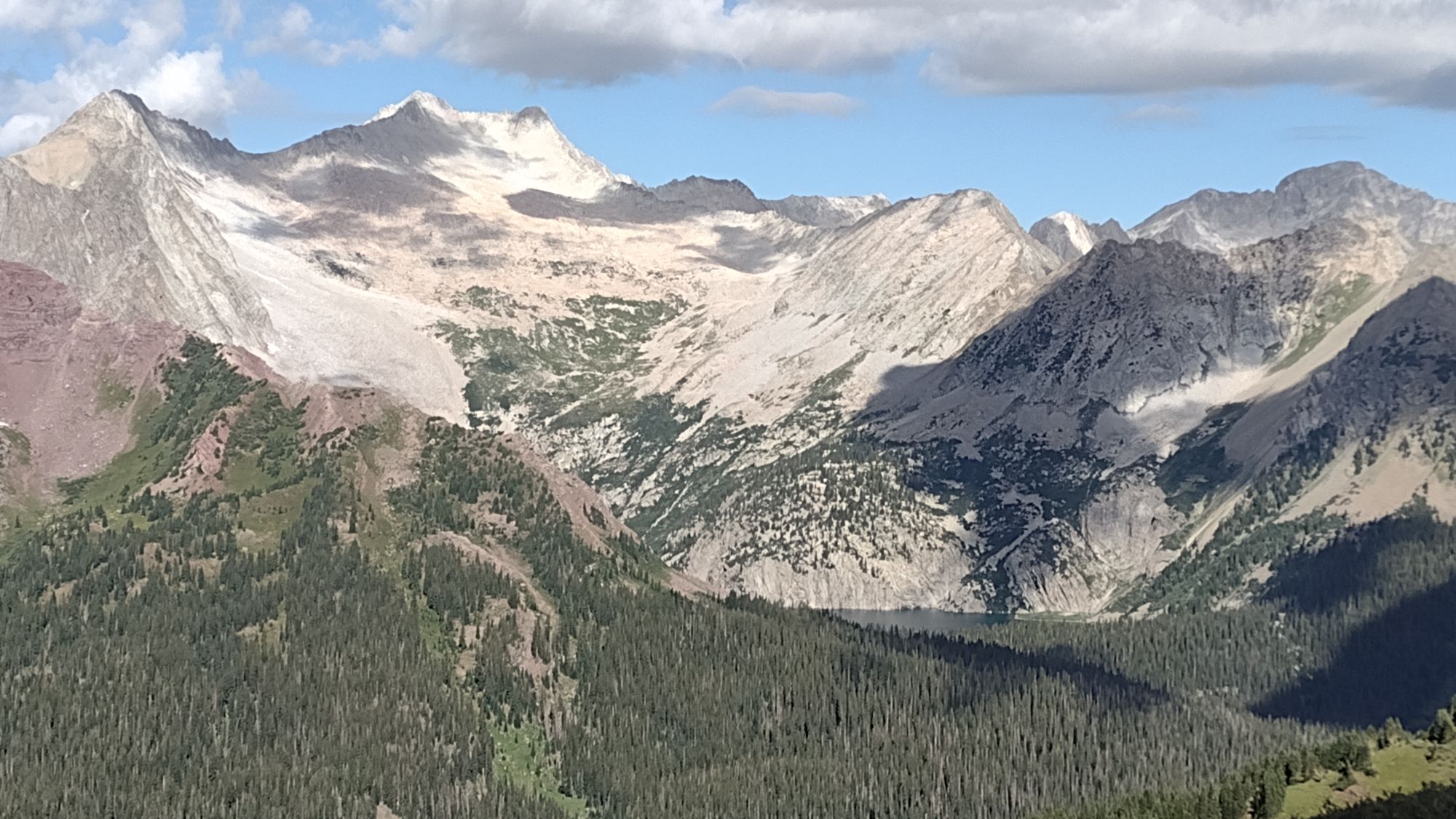 Friday August 5th:  We Drove from Manitou Springs to Crested Butte trail head and arrived around 11:30 am.  After group picture taking, myself, Chris Spears , his nephew, and his daughter began our climb.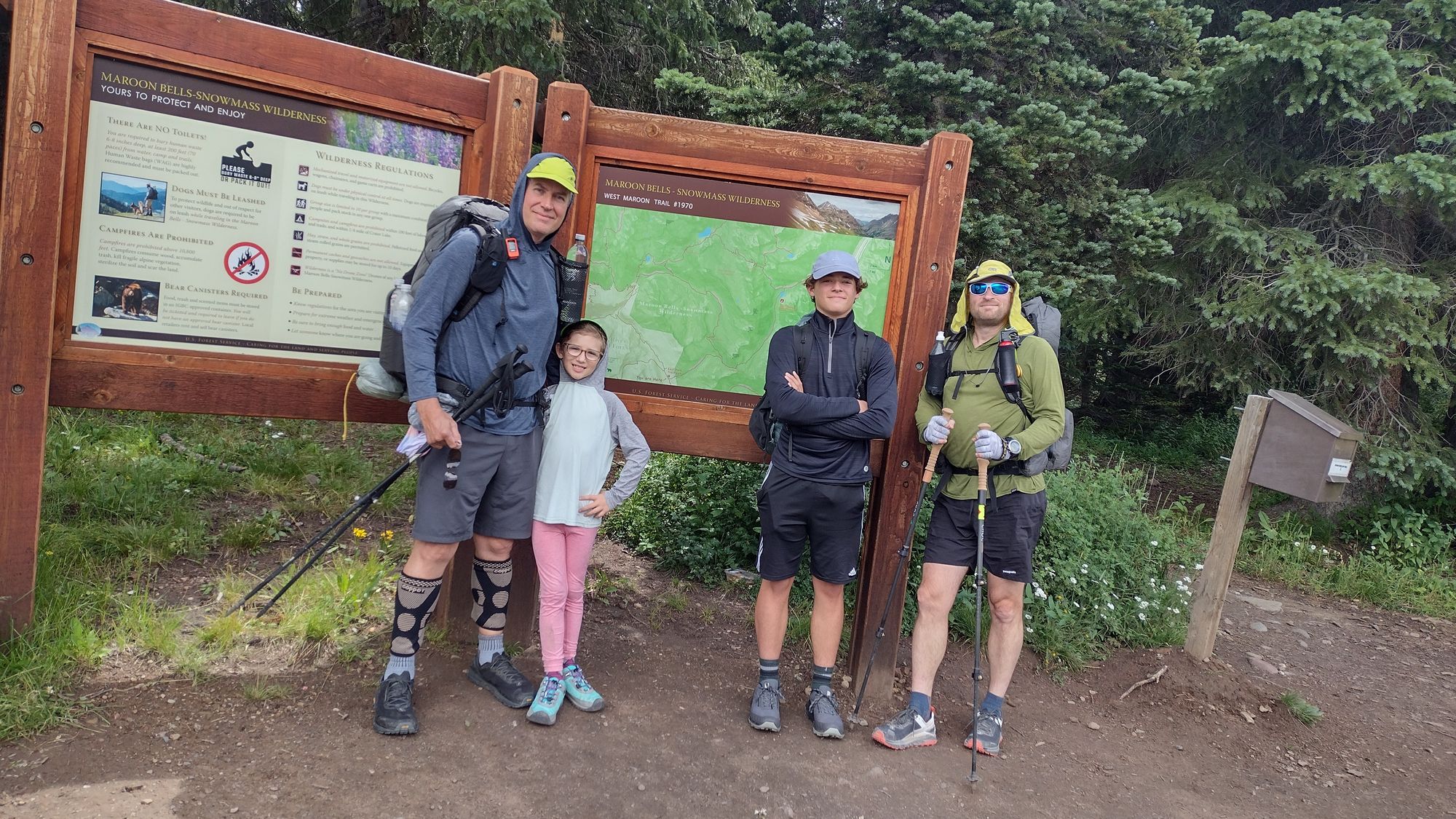 We debated clockwise or counterclockwise around the loop right up until we got to the decision point.  We chose clockwise and started our very steep climb up the side of the valley.
Thoughts of Julie Andrews twirling around singing "the hills are alive" were ever present as mountain meadows full of all sorts of wildflower amazed.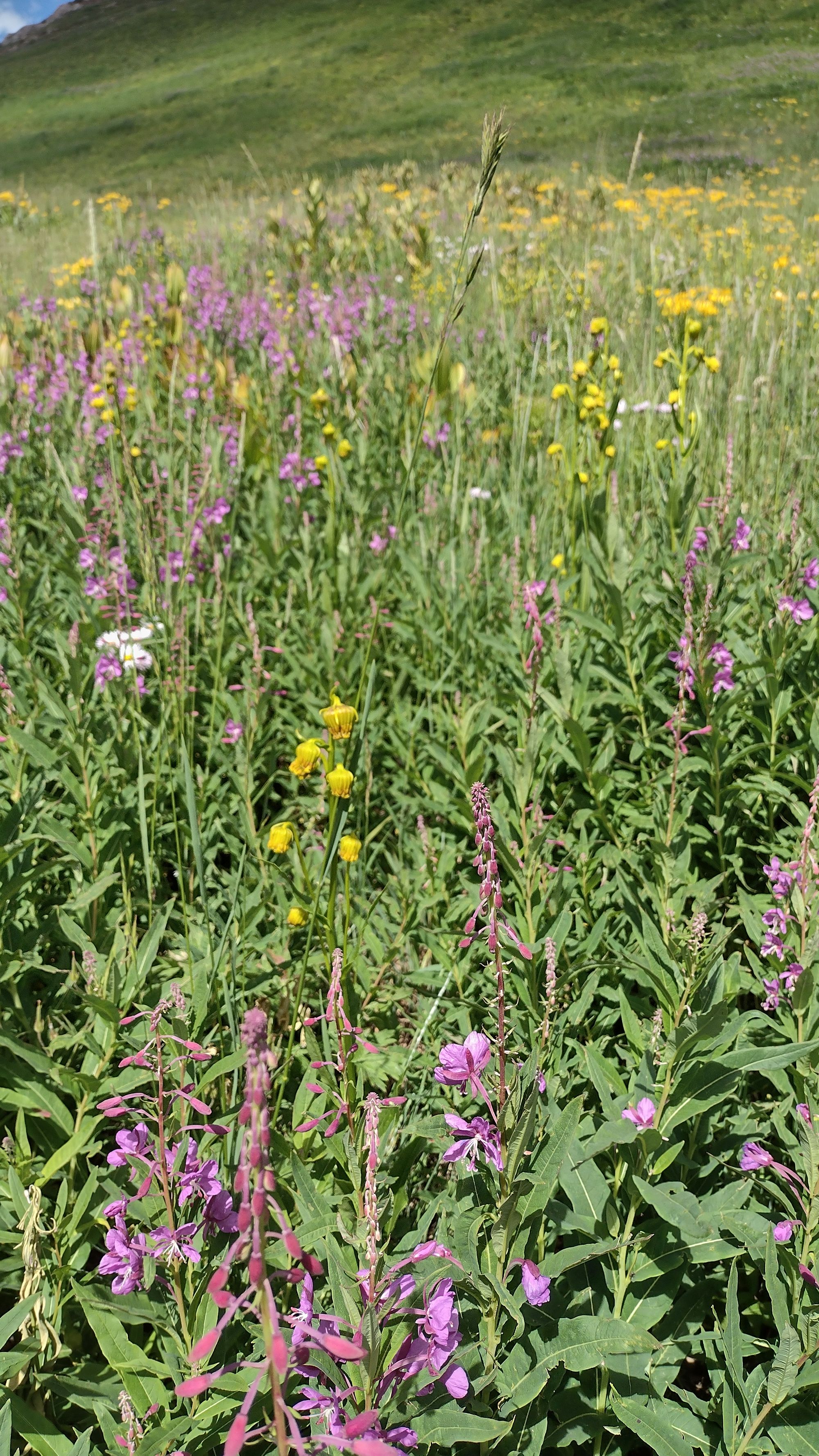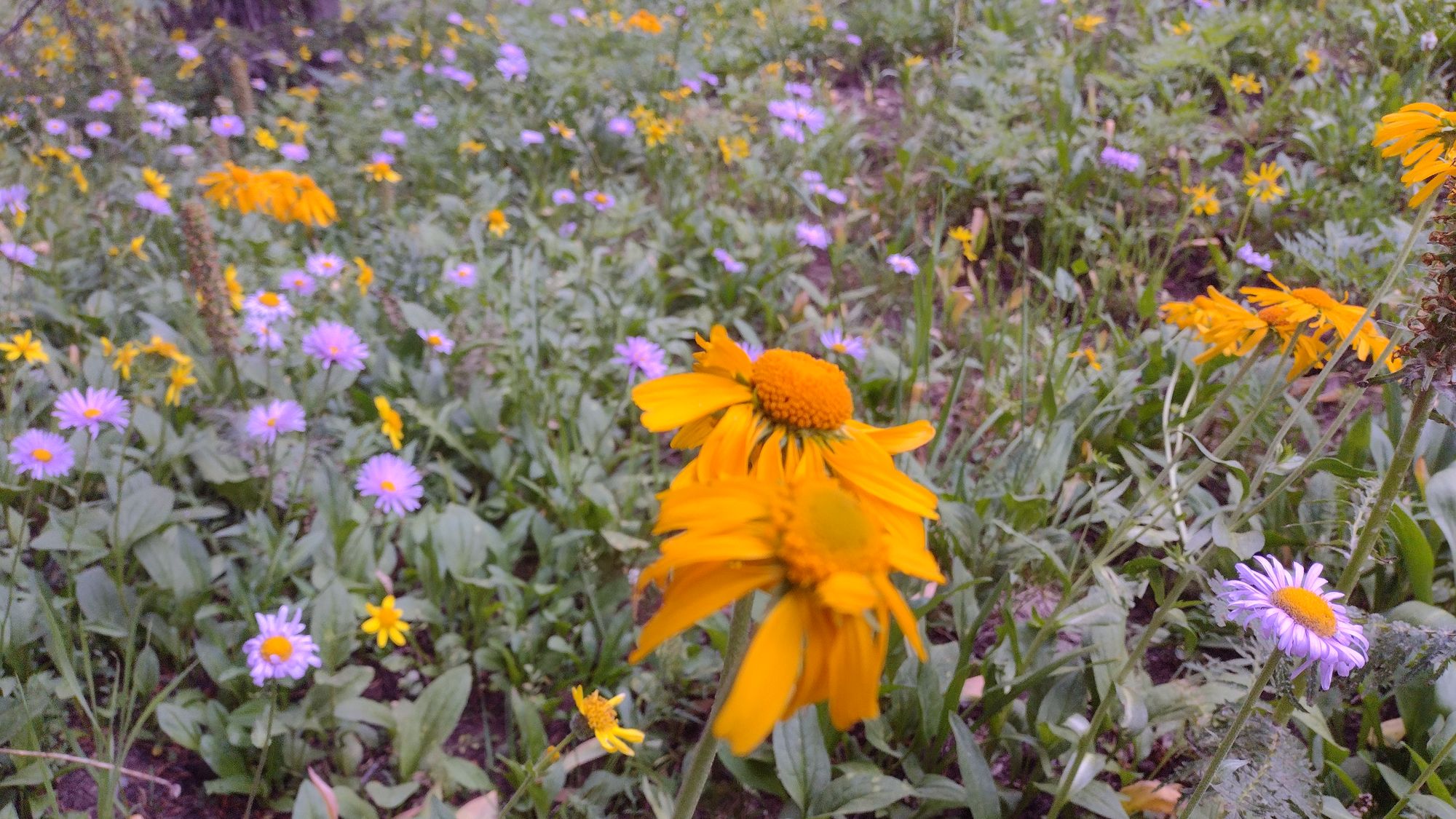 We climbed steadily to Frigid Air Pass, a 2000 foot climb, to top out at 12,400.  The training and Diamox definitely paid off!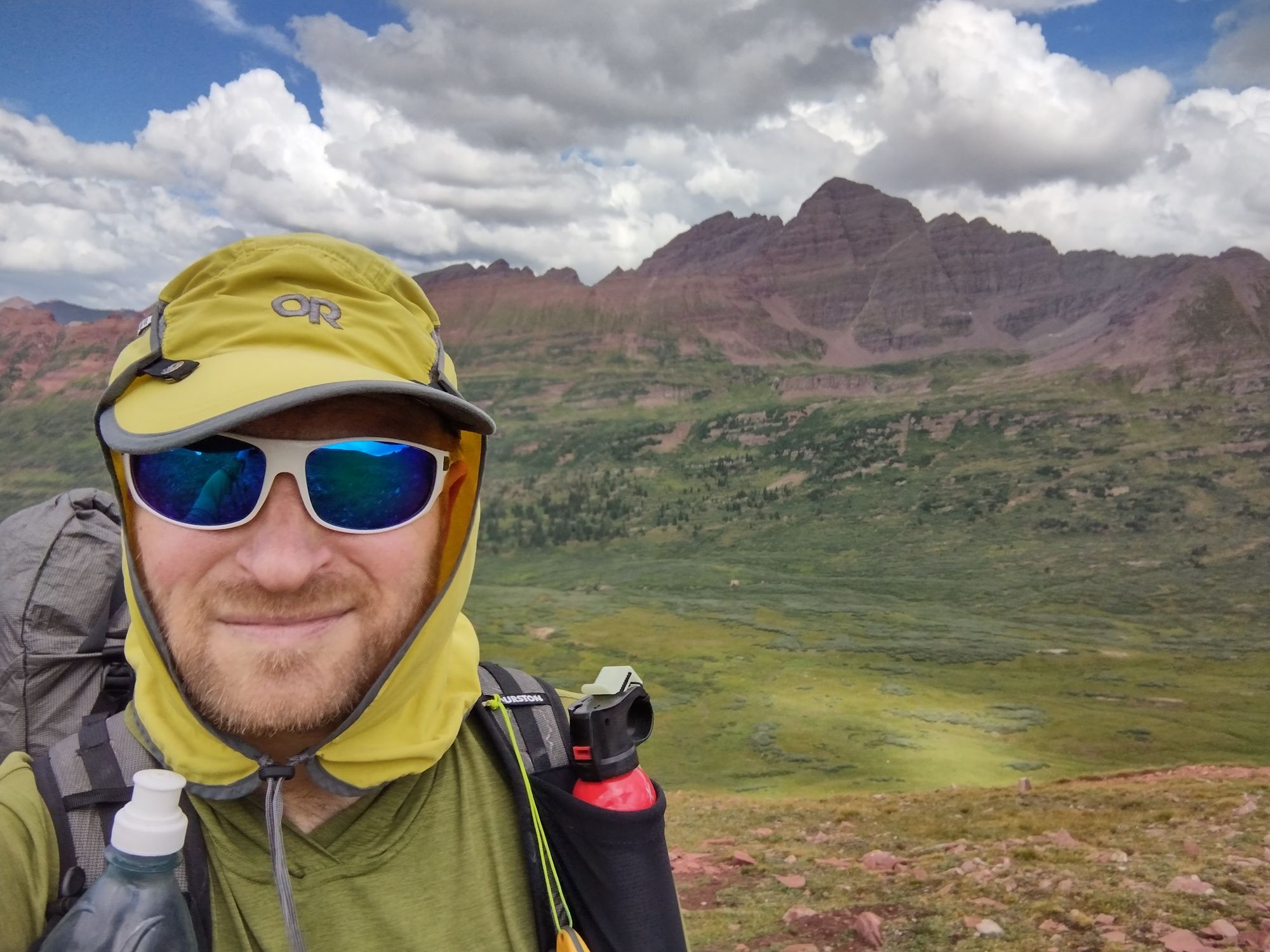 Then we descended into Frigid Air Pass, ending up at an amazing campsite, complete with our own waterfall!  How cool is that?  Beautiful evening.  It dropped down to 43 overnight, and we had condensation and dew to deal with, but no rain, overnight or all afternoon.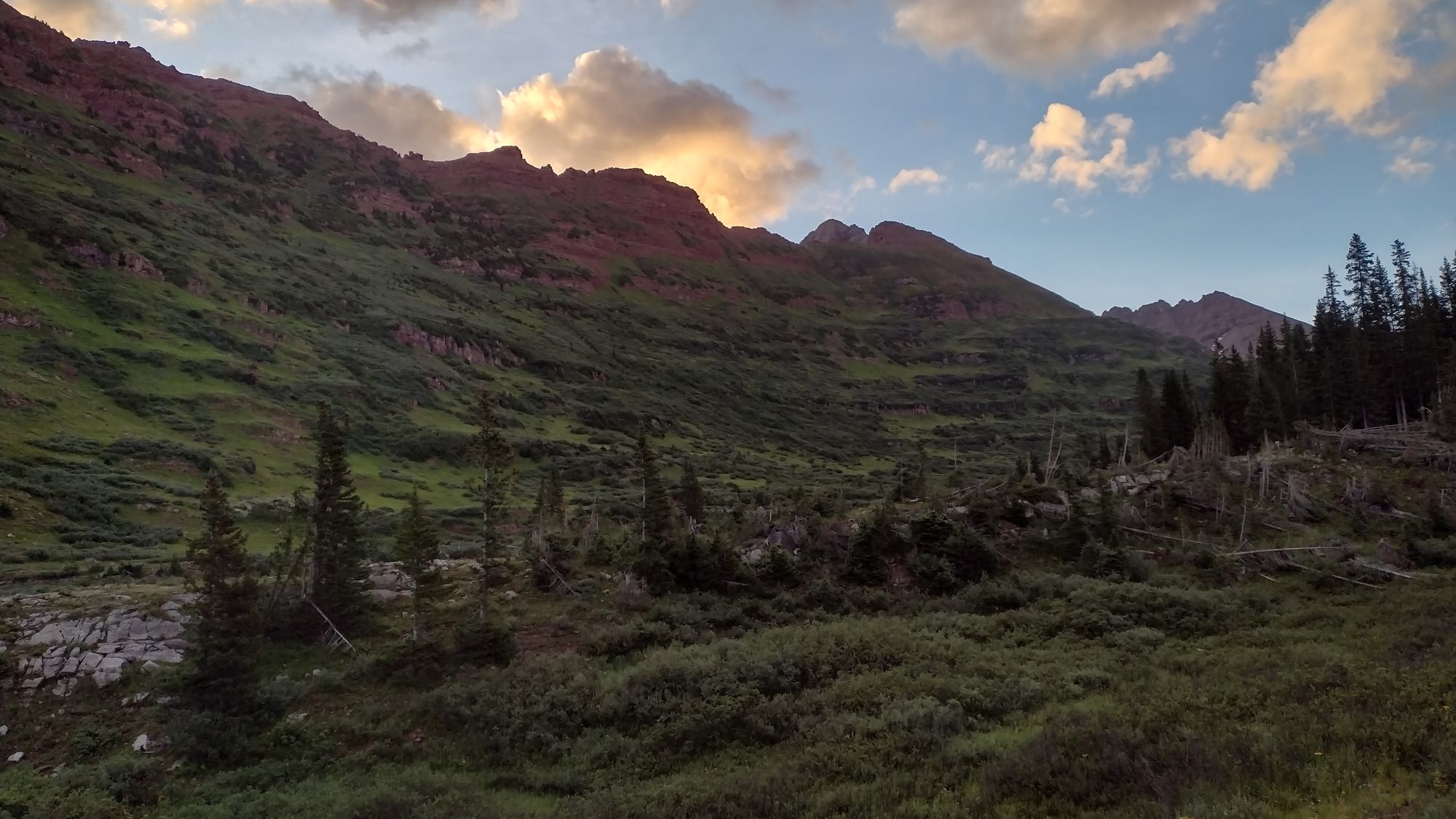 ---
Saturday, August 6th 2022 - Day 2.  The Tough Day
We descended Frigid Air valley, passing a beautiful meadow and waterfall, before the long climb to Trail Rider pass, a 2200 foot climb with a false summit.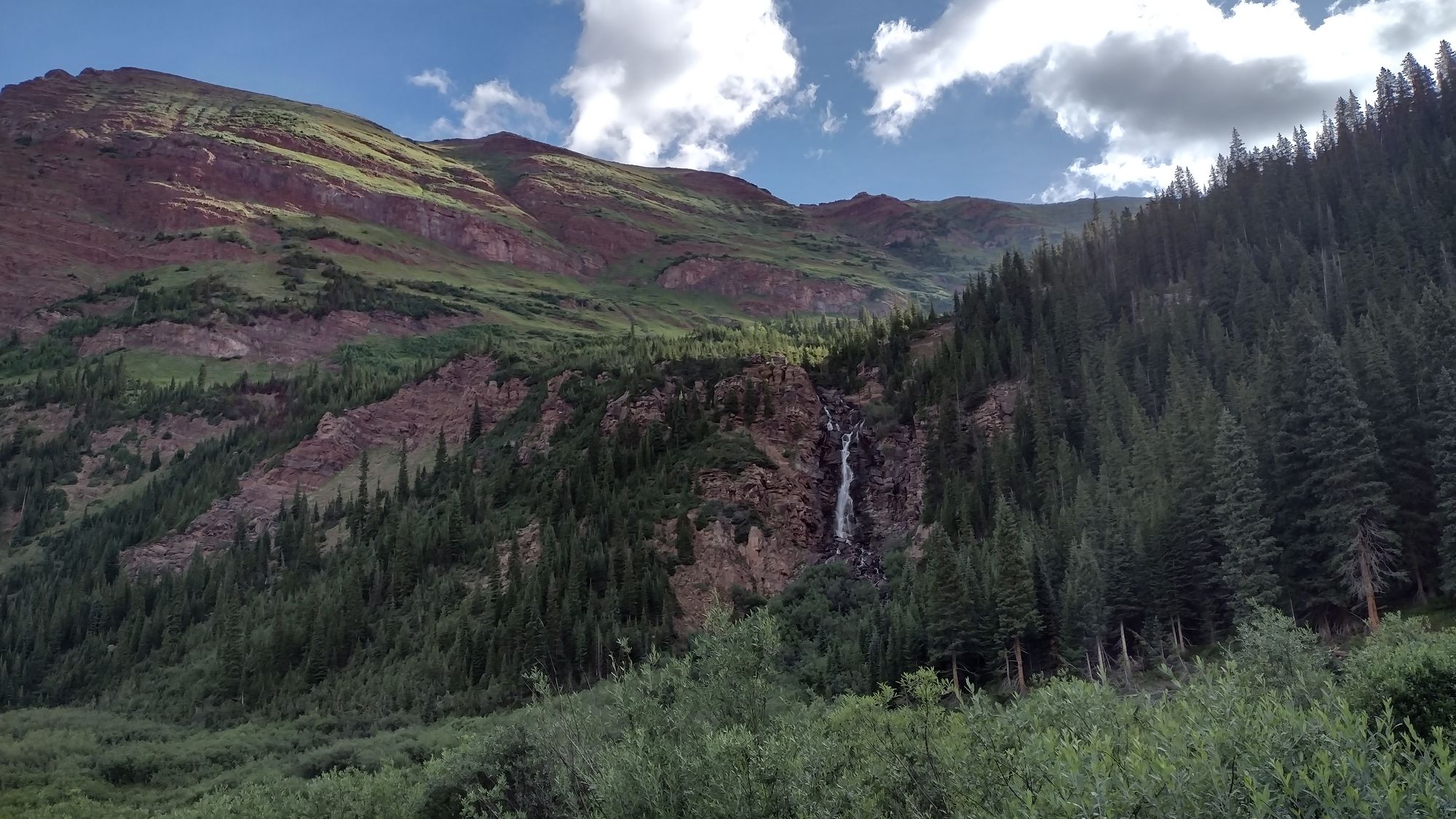 (See the elevation profile.). This was the hardest climb of the trip - steep and long.  But we were rewarded with a beautiful view at the top.  We could clearly see Snowmass lake from the top.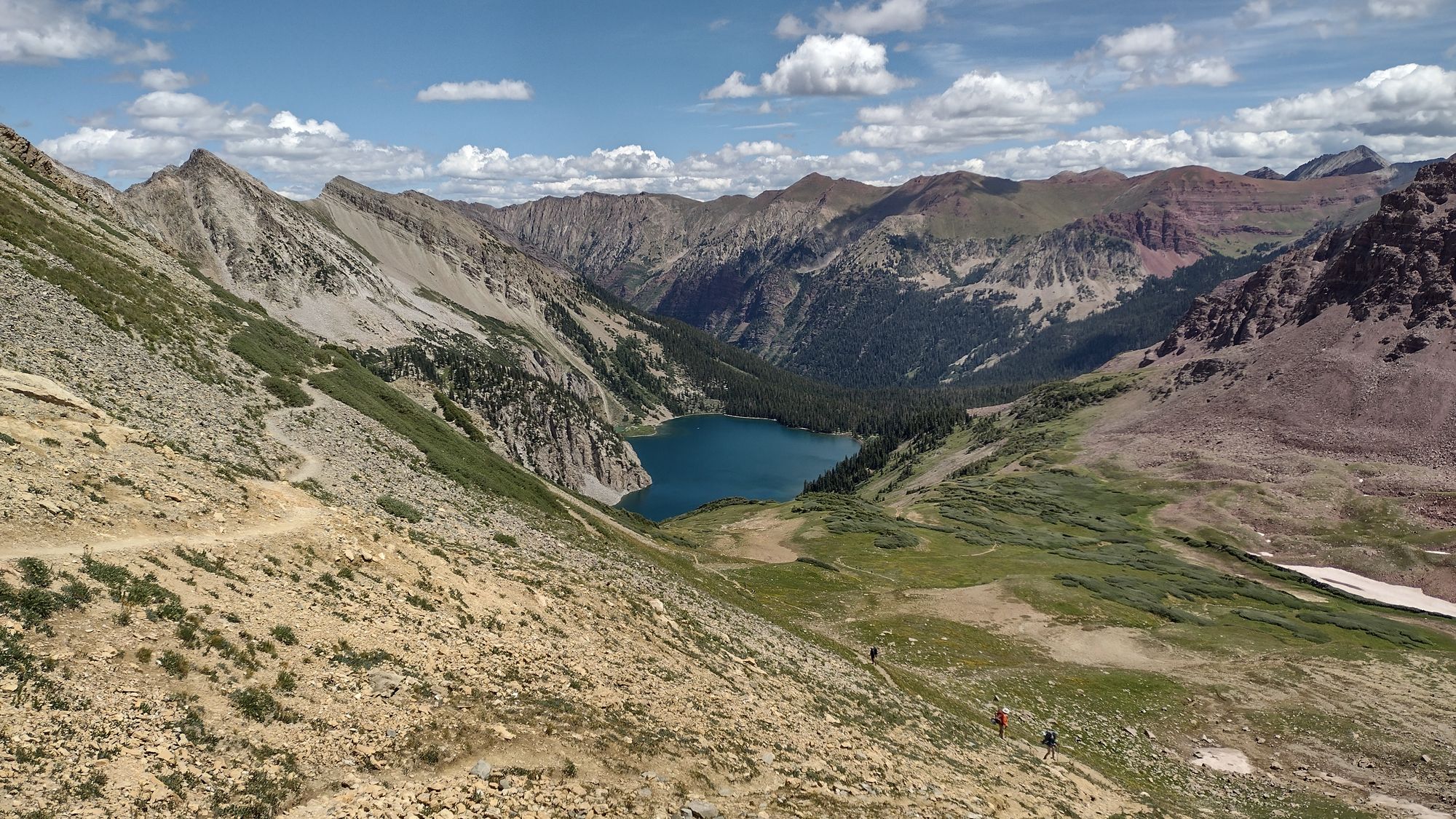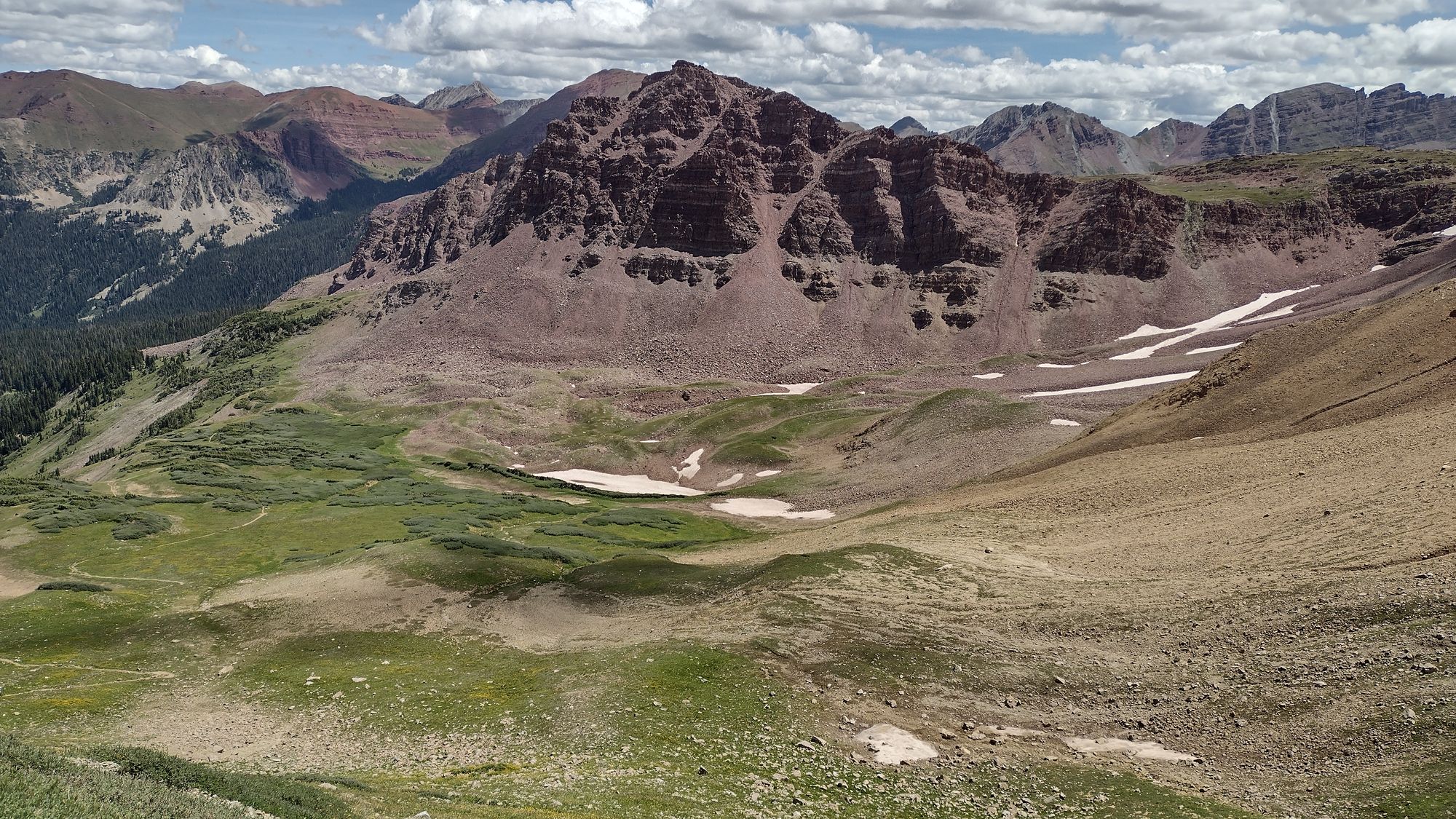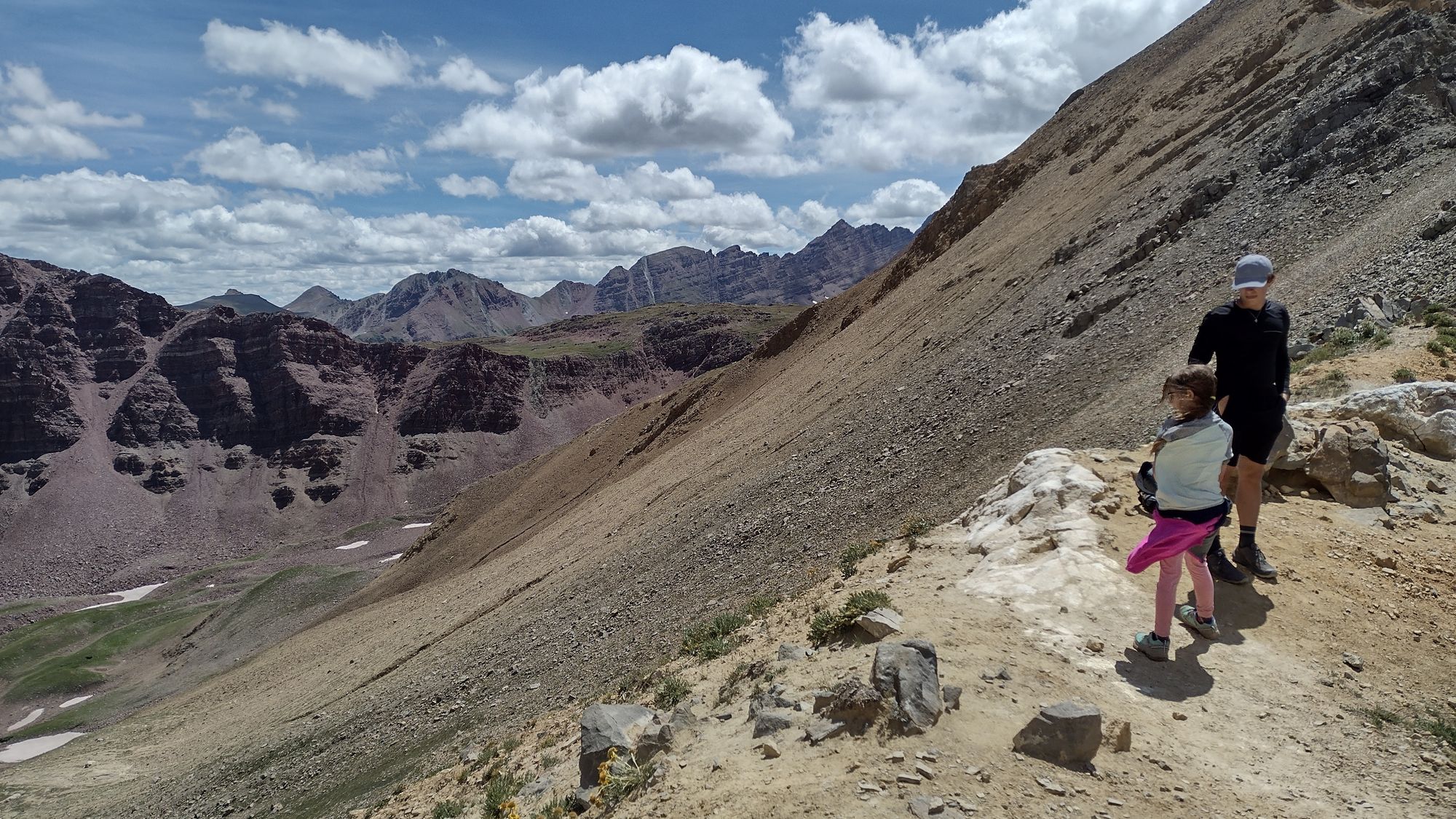 We descended to the lake, crossing a rock slide, and found a beautiful camp site - flat and no roots, under an evergreen canopy, only about 100' from the lake.  It was quite a popular spot.  There were probably 75 people at the lake.  Some swimming, on pair paddle boarding, others just enjoying the day.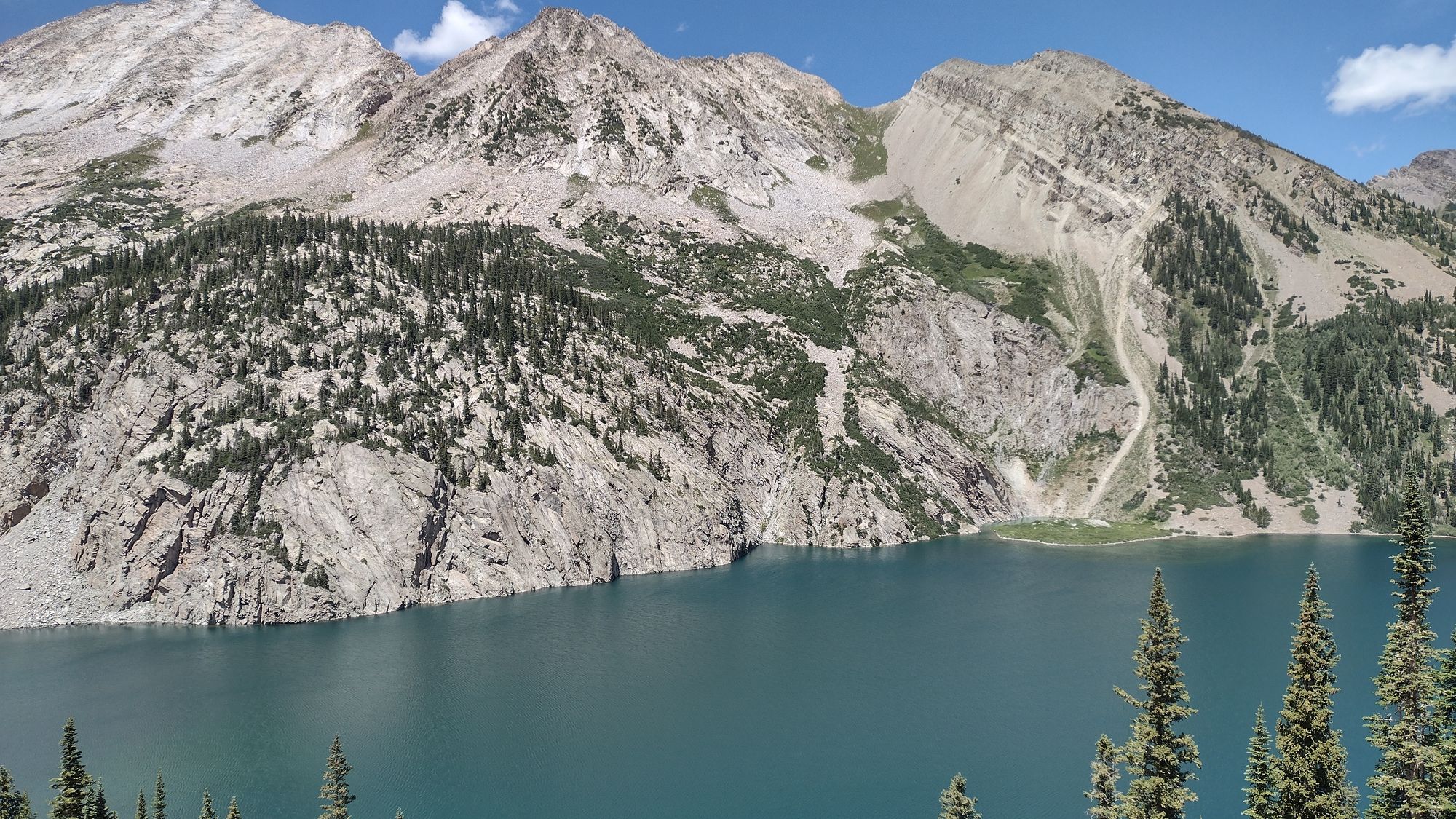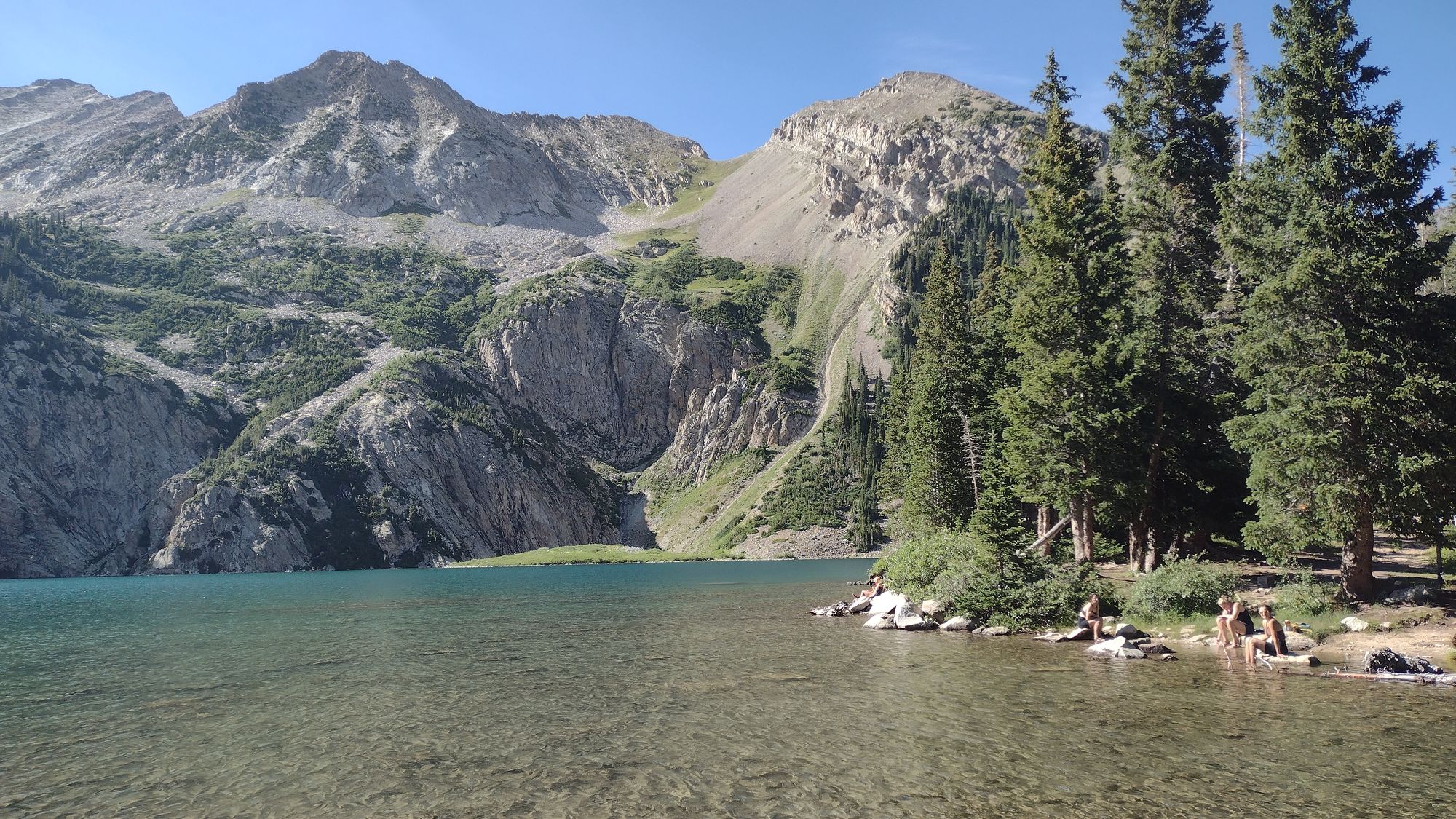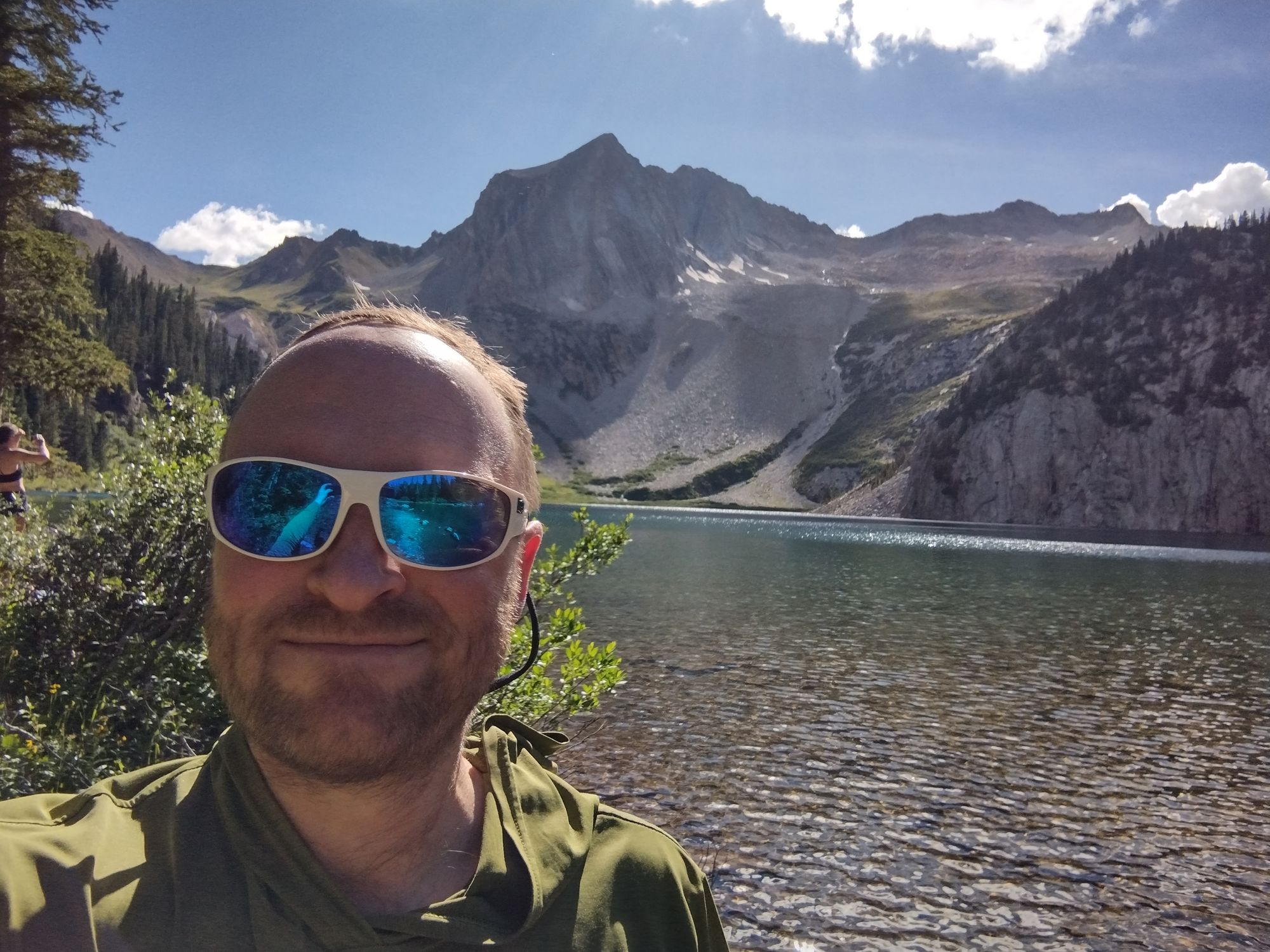 Maxine made friends with a family camped there that had two dogs.  We chatted with them as Maxine was enthralled with the pups.  Chris had brought a bit of whiskey on the trip, and encouraged me to help get rid of it, so I was feeling pretty rosy.  Nice relaxing evening at a beautiful spot.  No rain all day, and no rain overnight.  No condensation on the tents.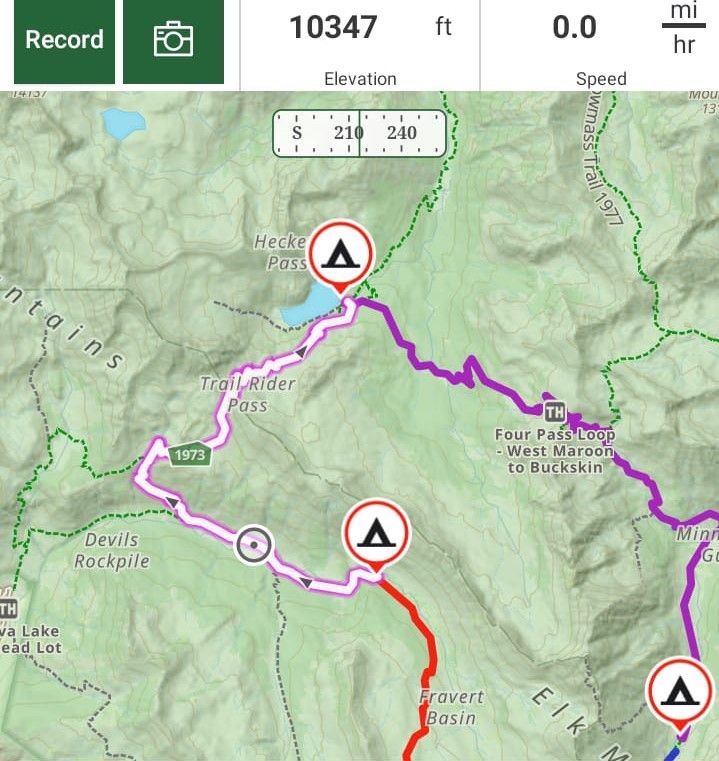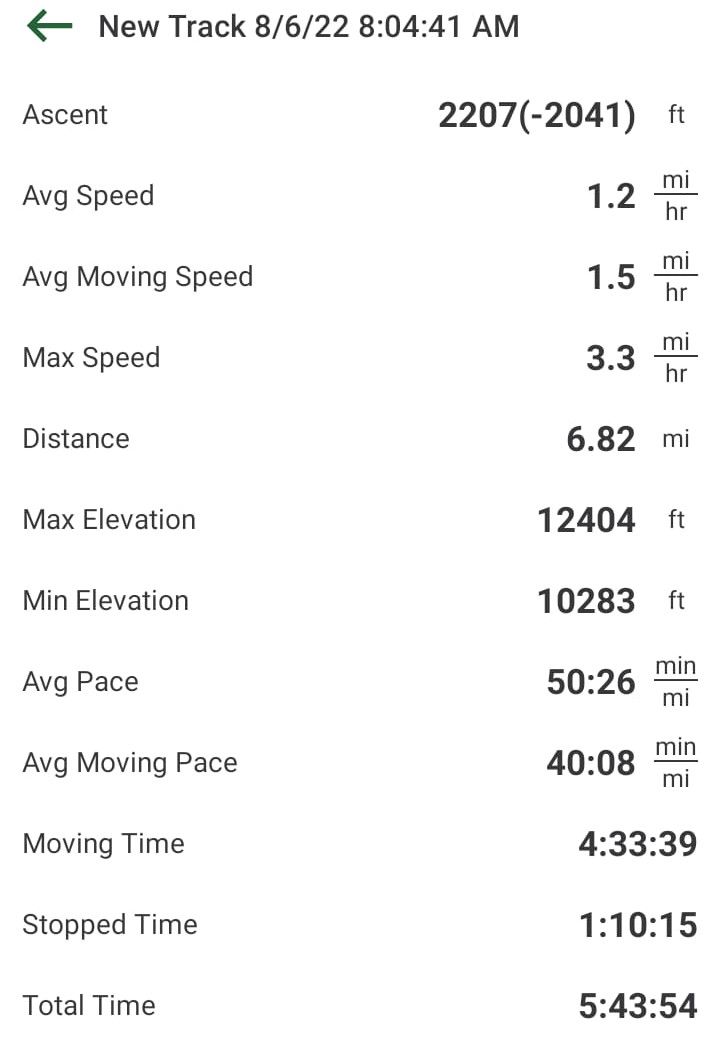 ---
Sunday, August 7th 2022 - Day 3.  The Long Day
This day started out with a relatively moderate climb from Snowmass lake up to the top of Buckskin pass.  I think it was only a 1600 foot climb.  The family Maxine befriended left camp about a half hour before us, headed in the same direction.  About 700 foot below the height of land, as we had broken out of the trees, we saw them, and Maxine went into turbo mode, racing up the mountain to catch up with them and play with the dogs.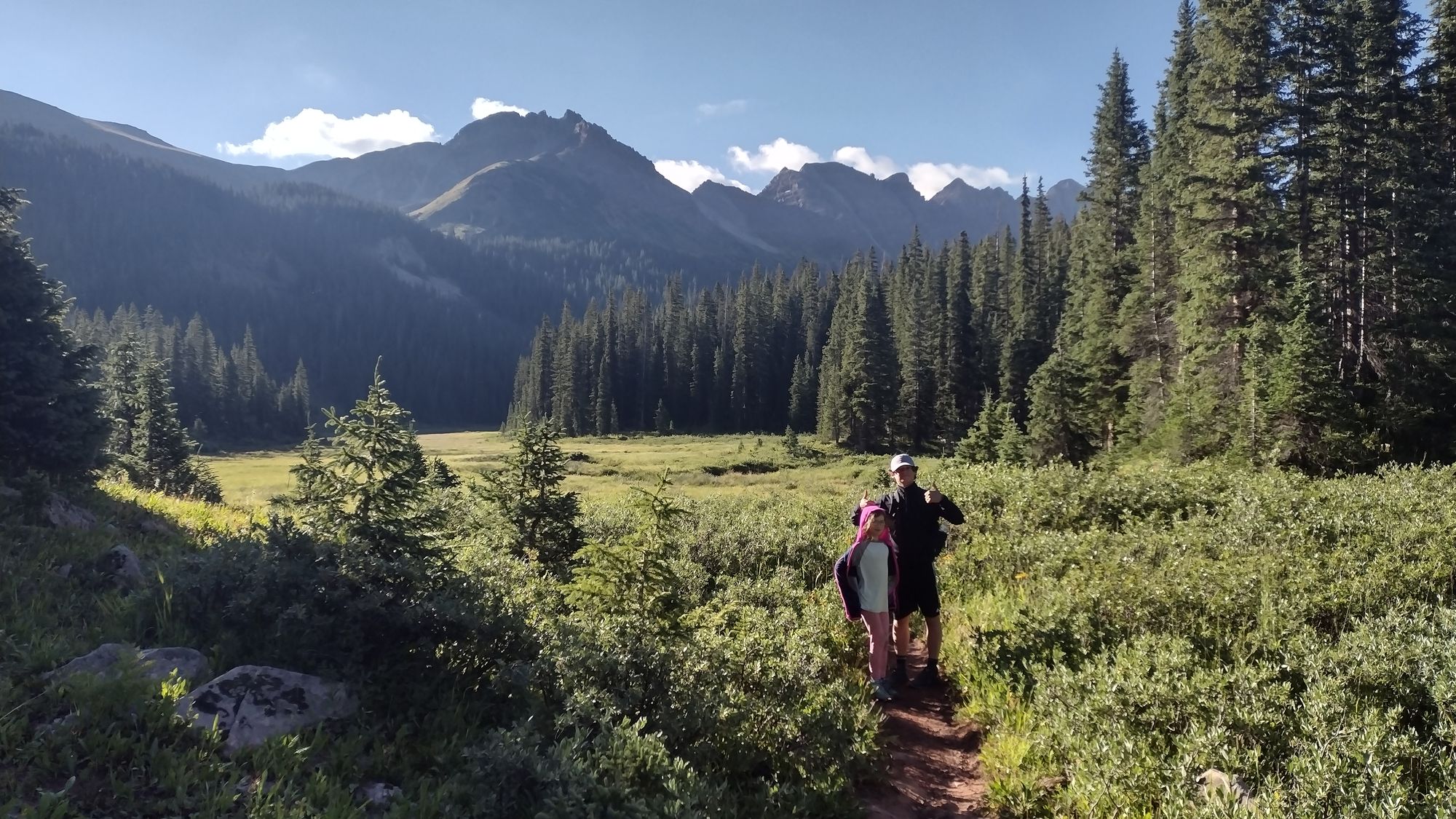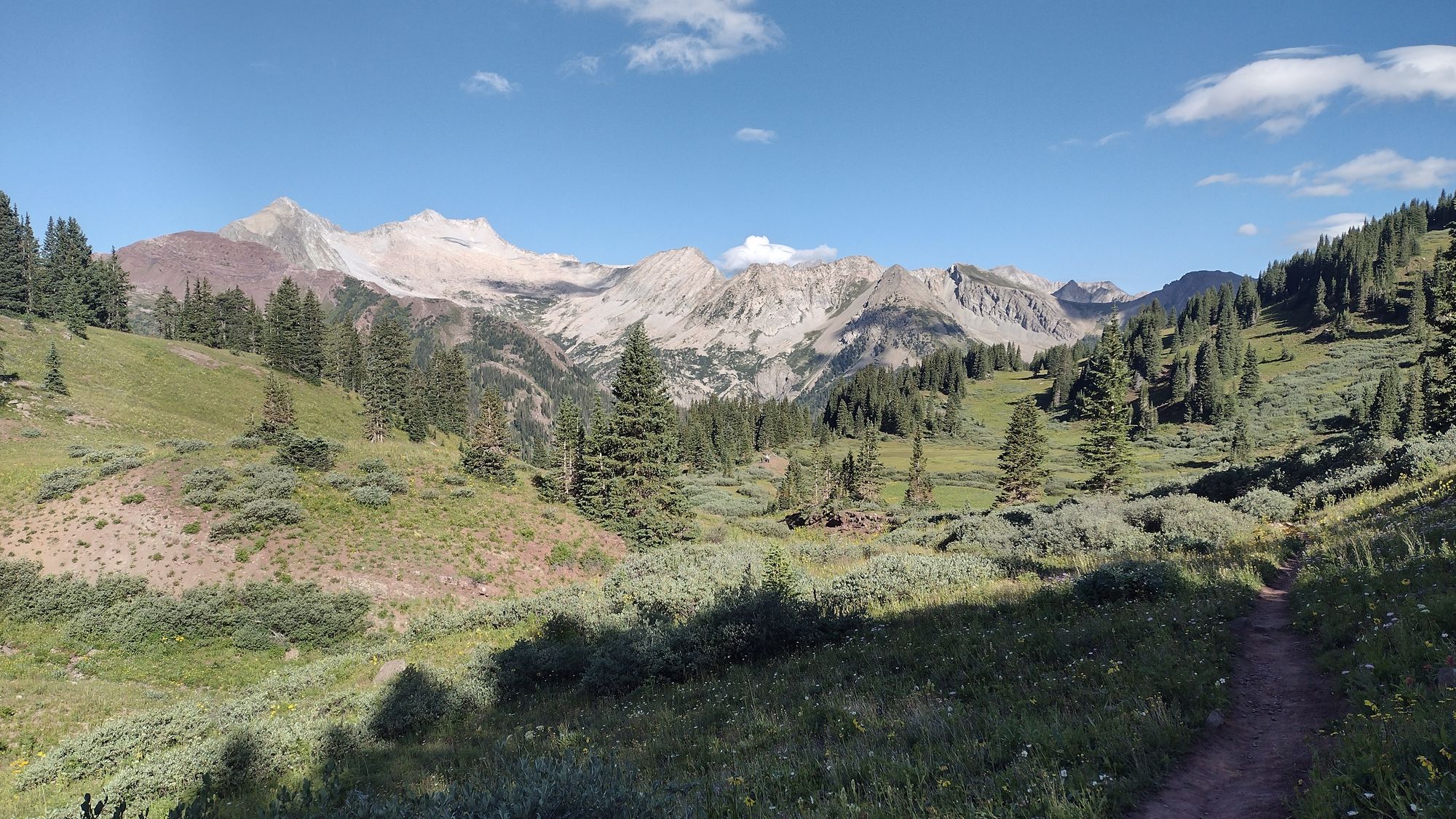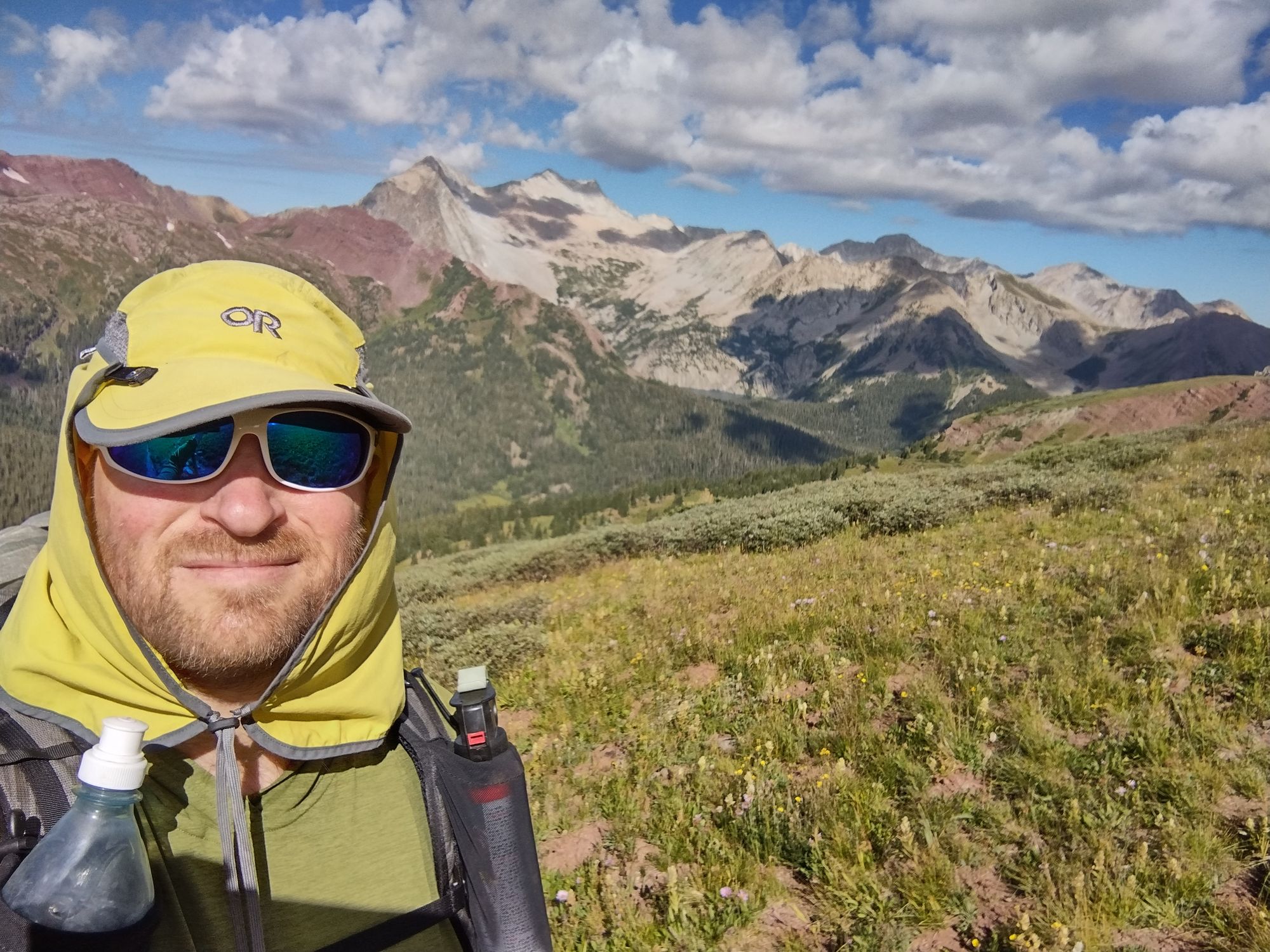 We spent some time at the height of land before starting the LONG decent.  I think it was like a 2400' decent.  We ate lunch at the mud pit they call creater lake before the family caught up with us.  We both agreed the plan was to make it a couple miles and a few hundred feet of elevation up the valley to make the next day easier.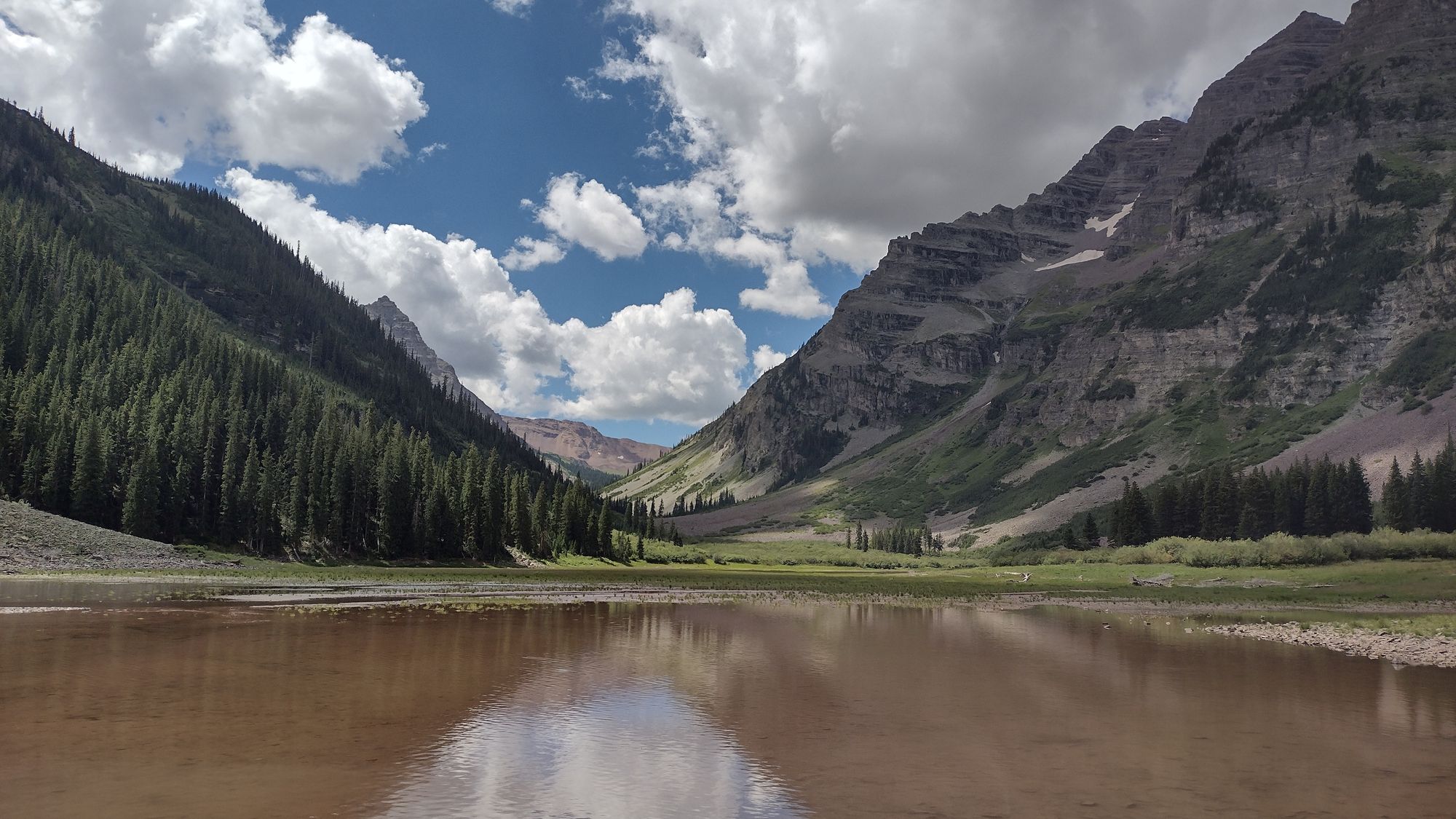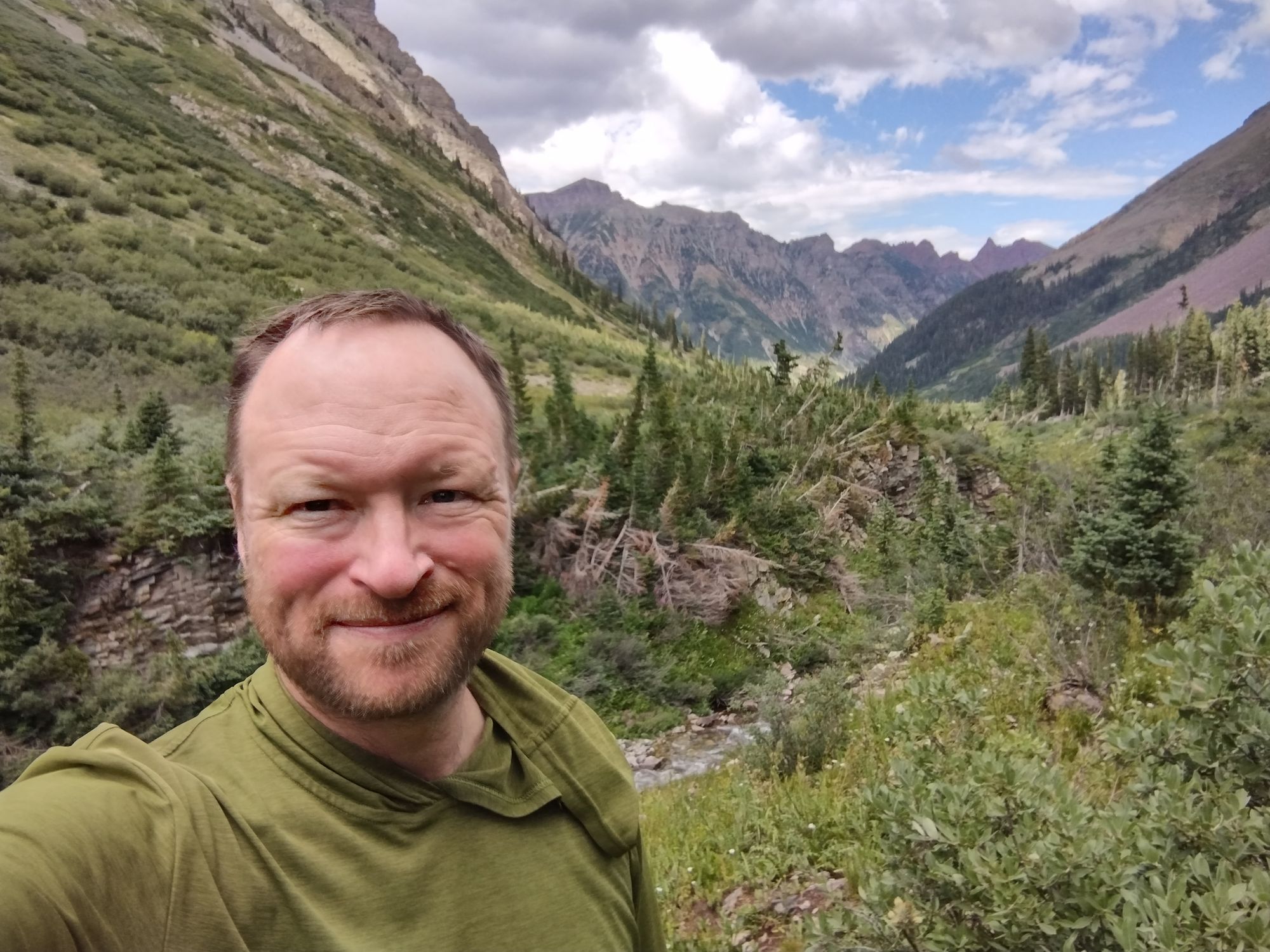 Maxine pooped out around 2 miles in, and we called it a day.  We had passed the family on the way up, and Maxine was set at the trail junction to flag them in as the rest of us set up camp.
Another beautiful site, with good water.  Overnight low was 45.  No rain day or night.  Just beautiful weather all around.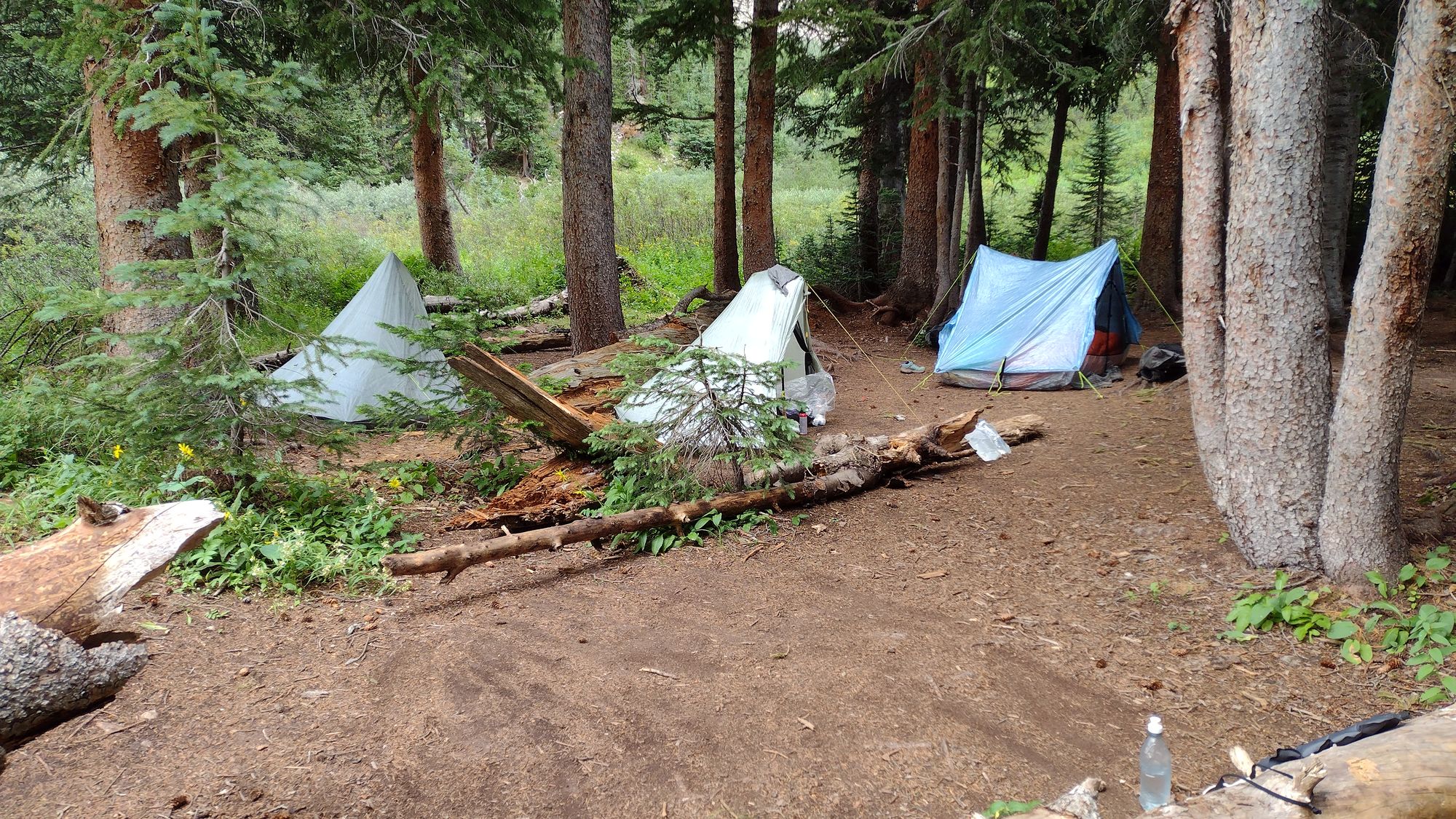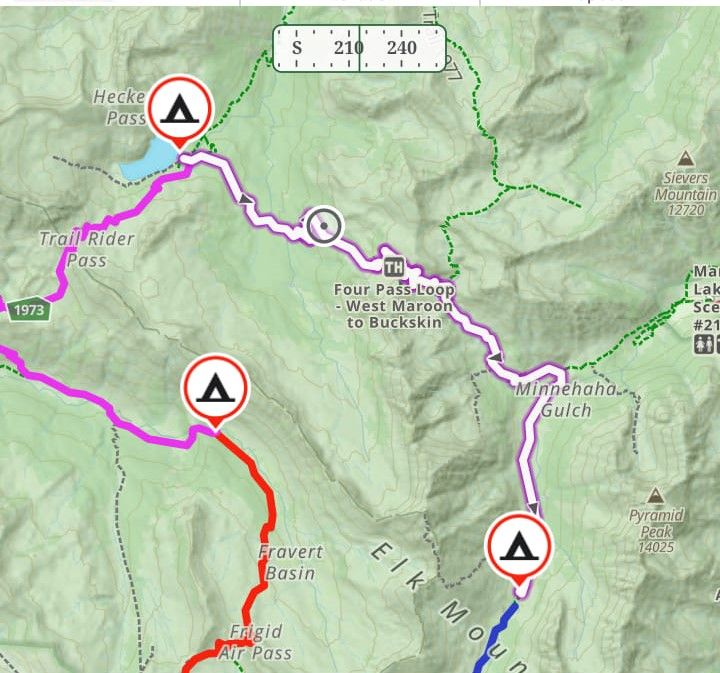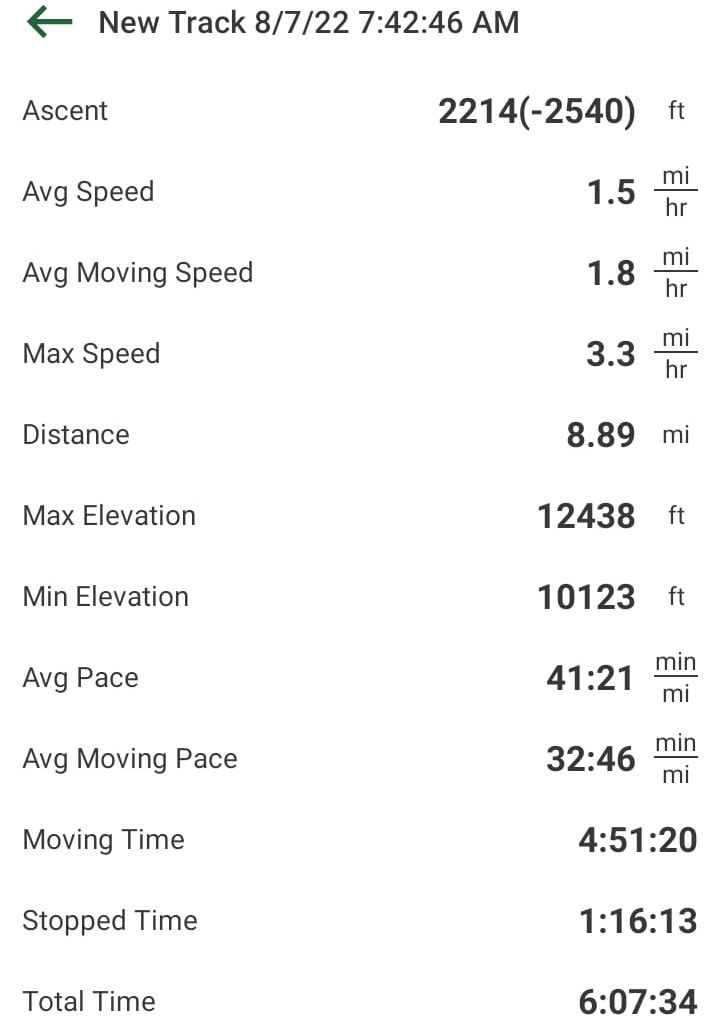 ---
Monday, August 8th 2022 - Day 4.  The Last Day - a race for the car.
Since Chris Spears  Garmin Inreach had some issue right off the bat, we didn't have messaging capability the entire trip.  The best we had was brief AT&T connectivity from the top of Frigidaire Pass on day 1.  Just enough to let Dorothy Spears know we wouldn't be able to communicate.  The fall back an that we set on the first day was pickup at 1:00 pm on day 4, so that's what we were shooting for.  Packs we're very light as all the food was gone - all we had to do was about 6.25 miles - one 1800 foot climb followed by a 2000 foot, 4 mile decent.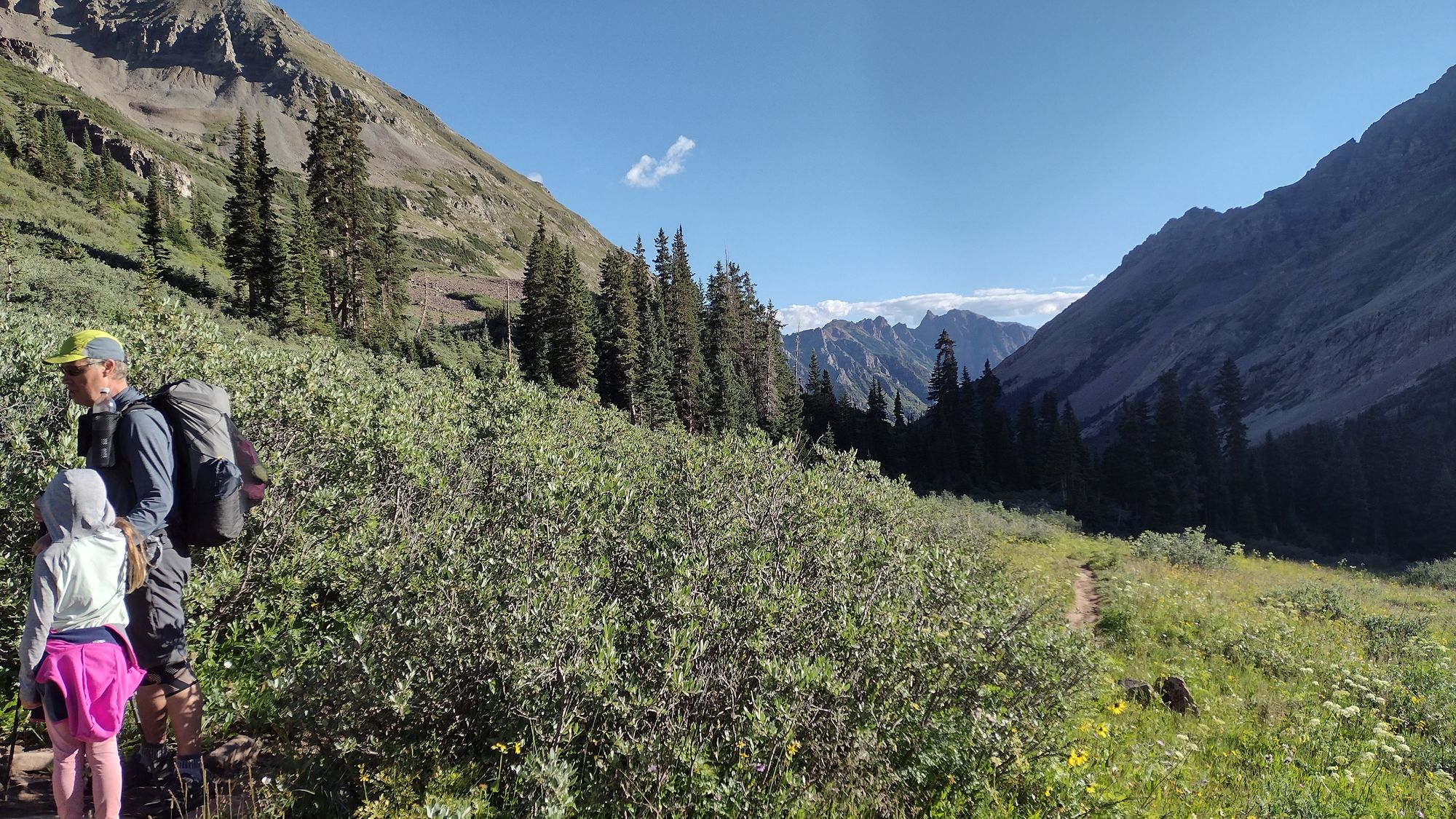 We made it to the top by 9:15, and spent until 10:00 hanging out with the family, who were right behind us.  Maxine taught the family the "Animal Game" and they amused themselves as we chatted with the parents and enjoyed the beautiful weather.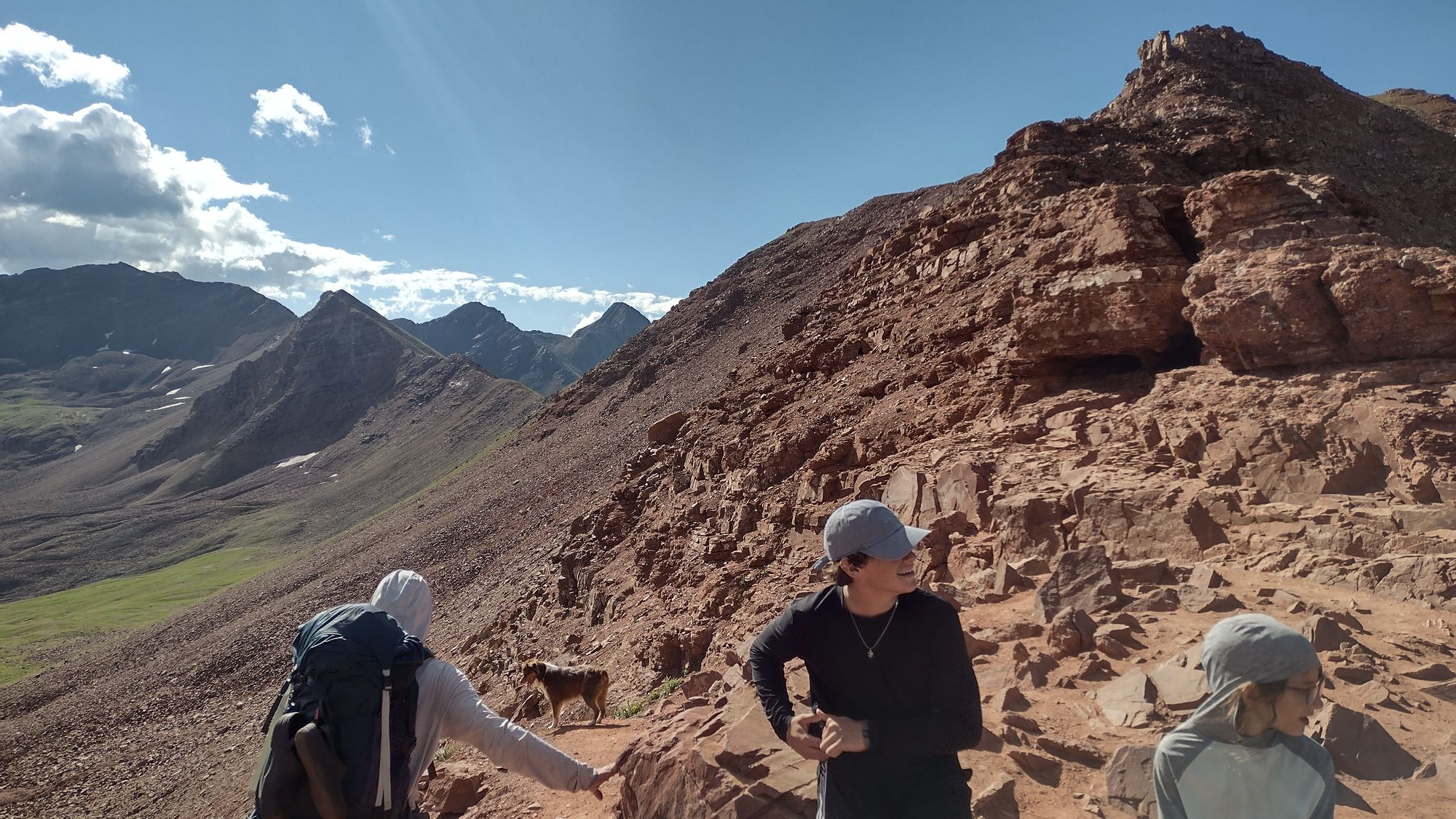 The decent went slow at first as the upper 600ish feet was very steep and rocky, but soon moderated such that we picked up a good pace.  Many folks were headed up as we were headed down, amazed that an 8 year old had completed the loop.  We were equally amazed to see a 70 year old lady with full pack headed up with her family.
It was interesting seeing the super steep section we headed up on day 1 as we descended the valley.  When we got to the trail junction, officially completing the loop, I could look up and see a group struggling with that first super steep pitch we had gone up 3 days prior.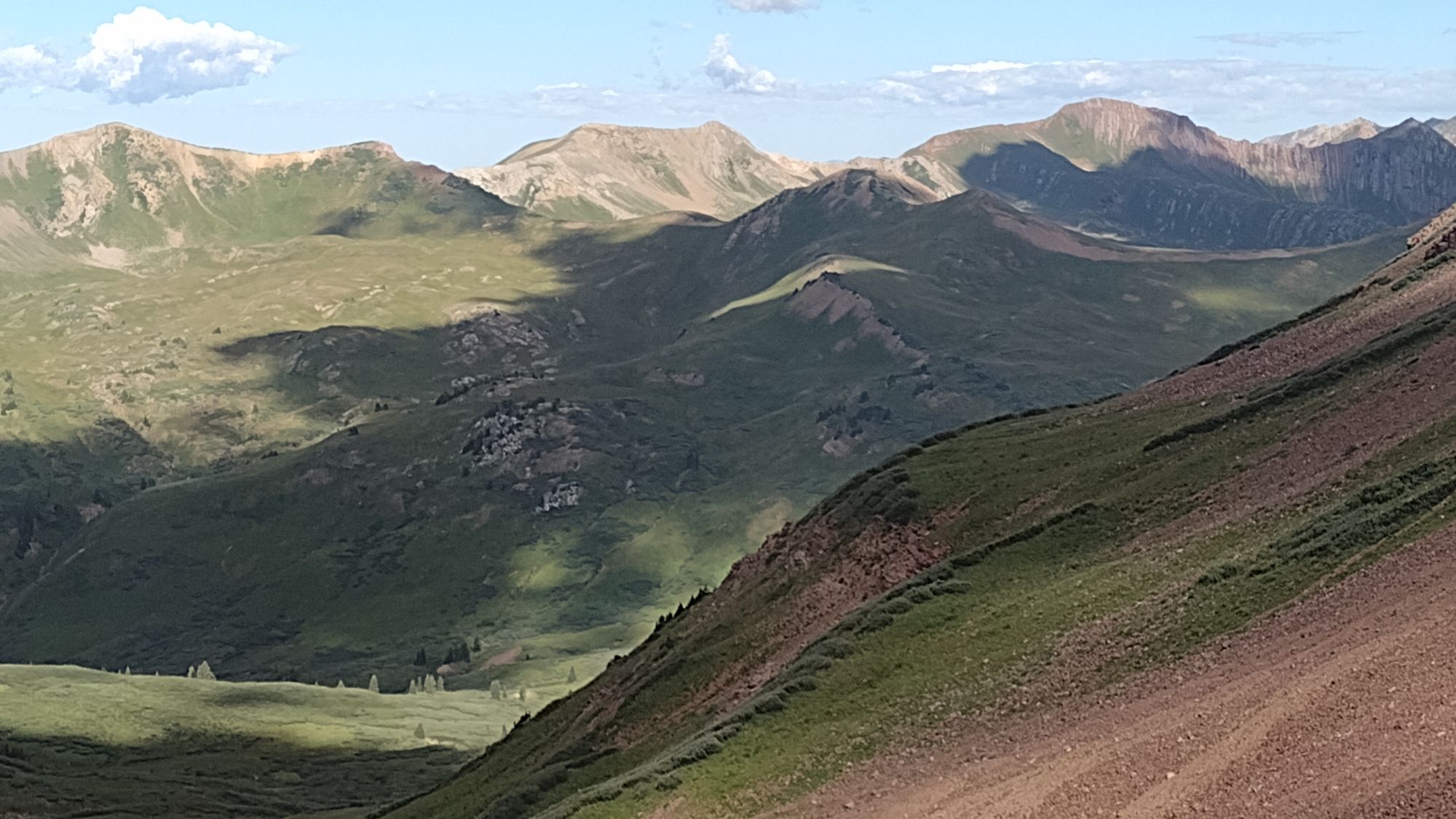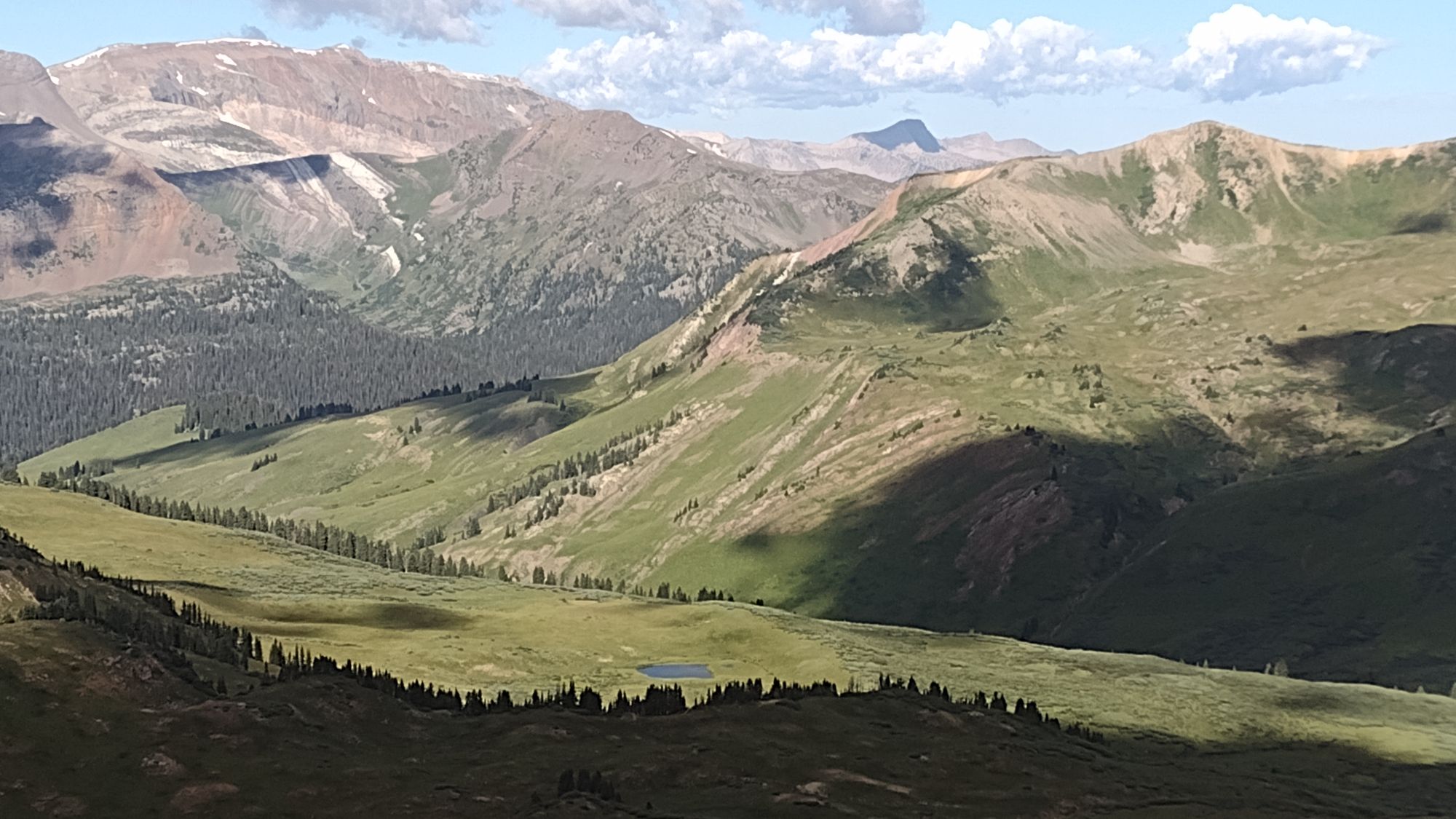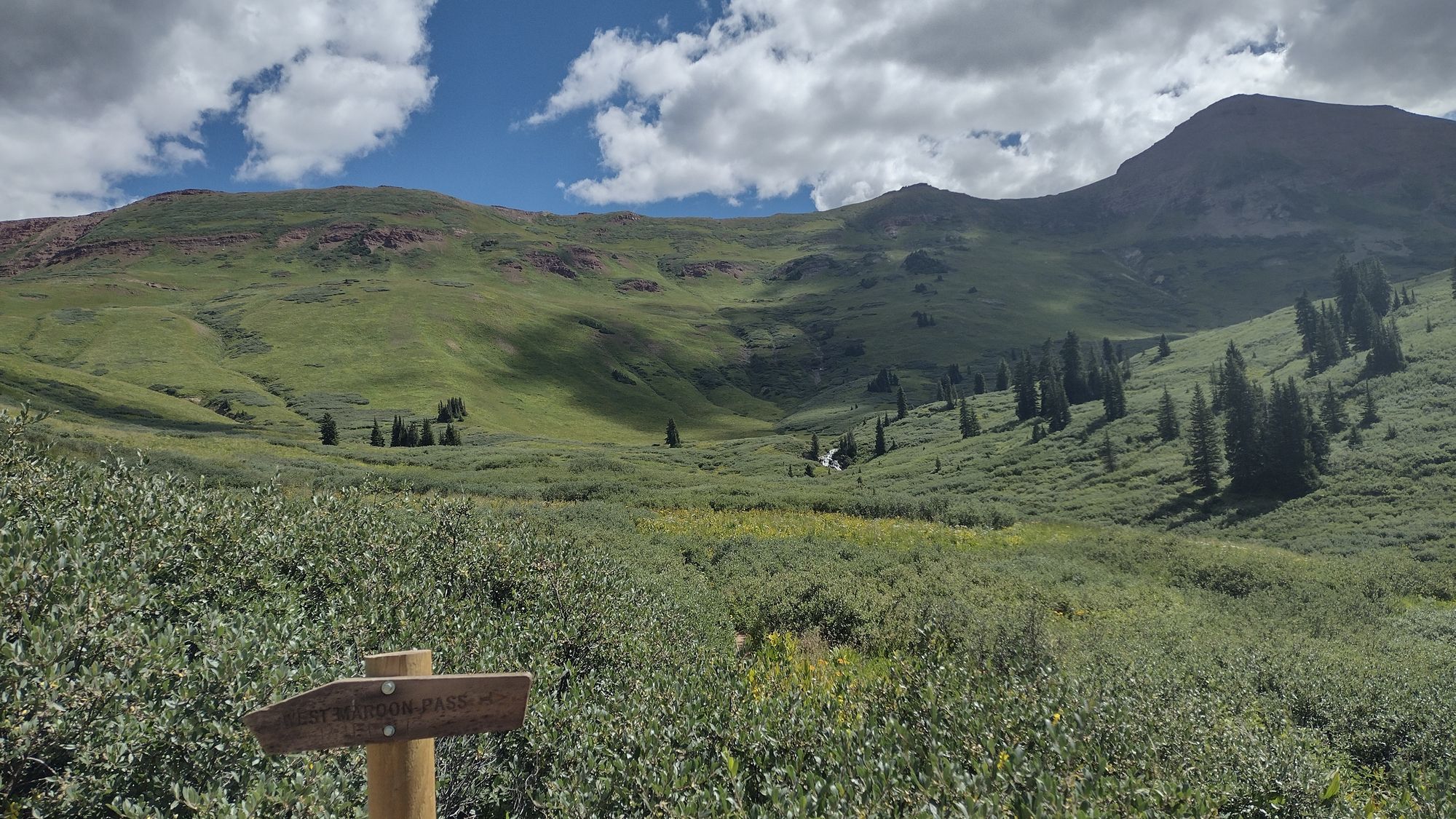 Then it was a modest 2 mile decent to the trailhead, where we arrived at 11:50.  We  hung out, eating and resting, until Dorothy picked us up a little early at 12:45.  And with that it was a talkative 4-hour road trip back to Manitou Springs, a shower, burger, beer, and sharing memories.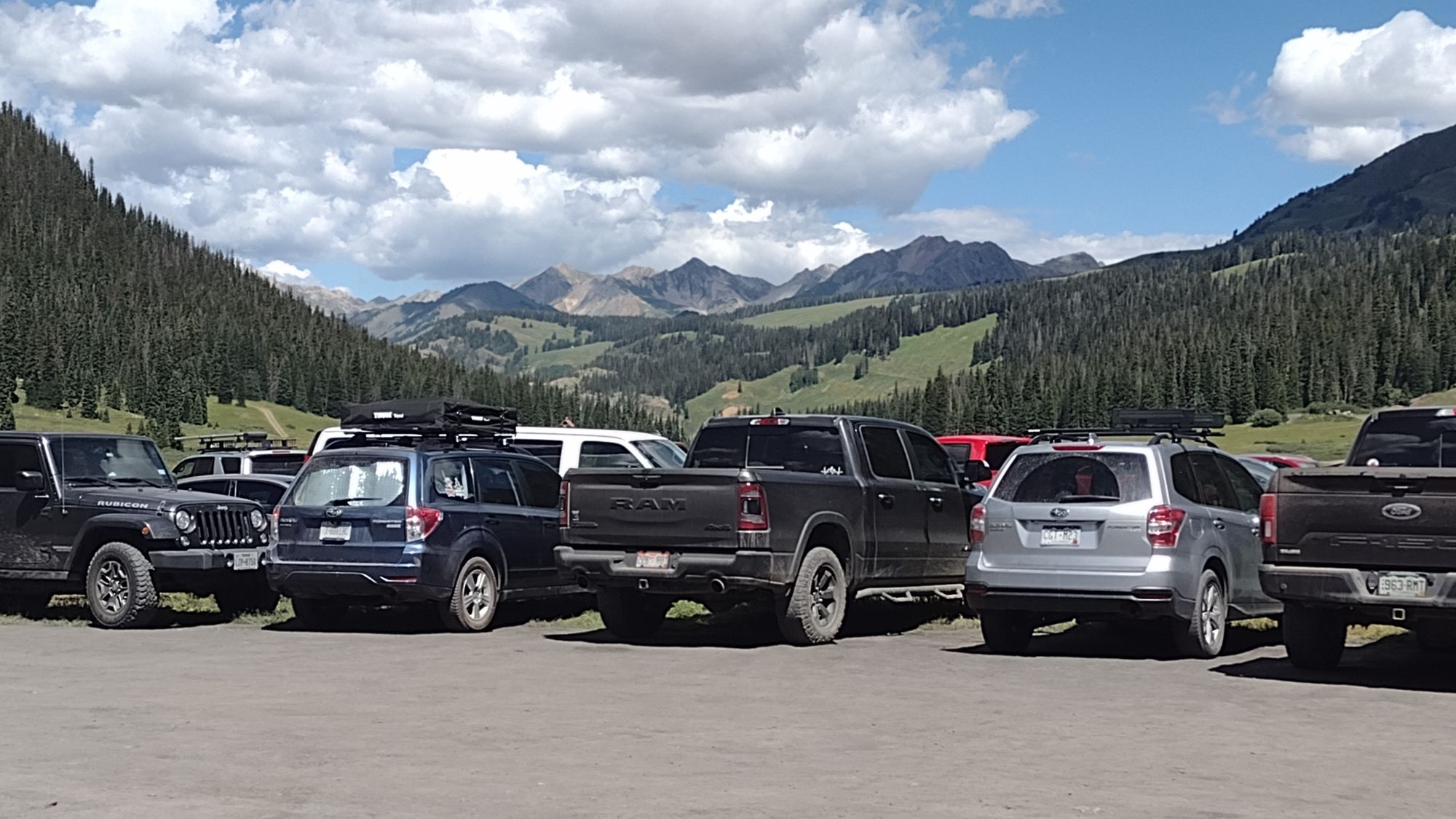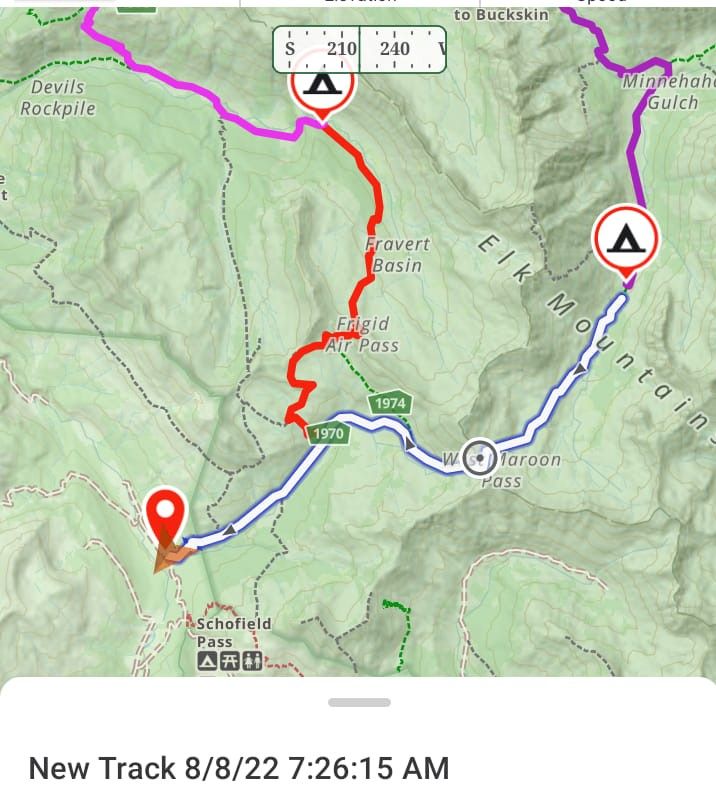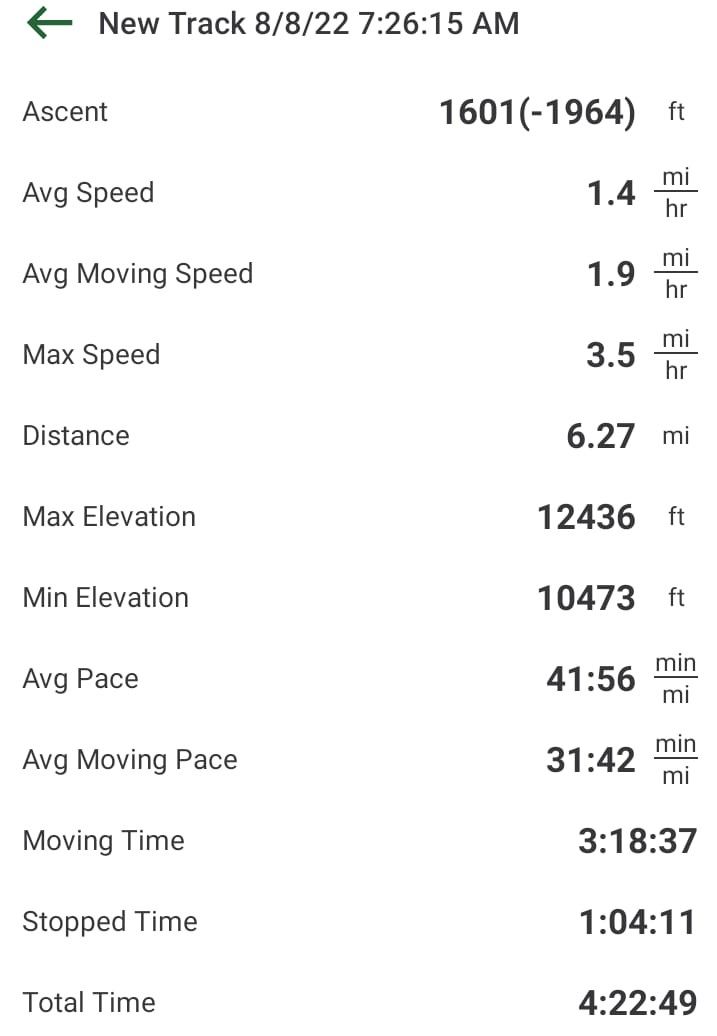 ---
Tuesday, August 9th 2022 - The Drive Home.  Written from the car on the way home:
We are now on the LONG drive home.  I should be home by midnight.  Two stops on the way - Waco for Dorothy Spears, then Austin for Chris Spears and Maxine, then finally San Antonio for me.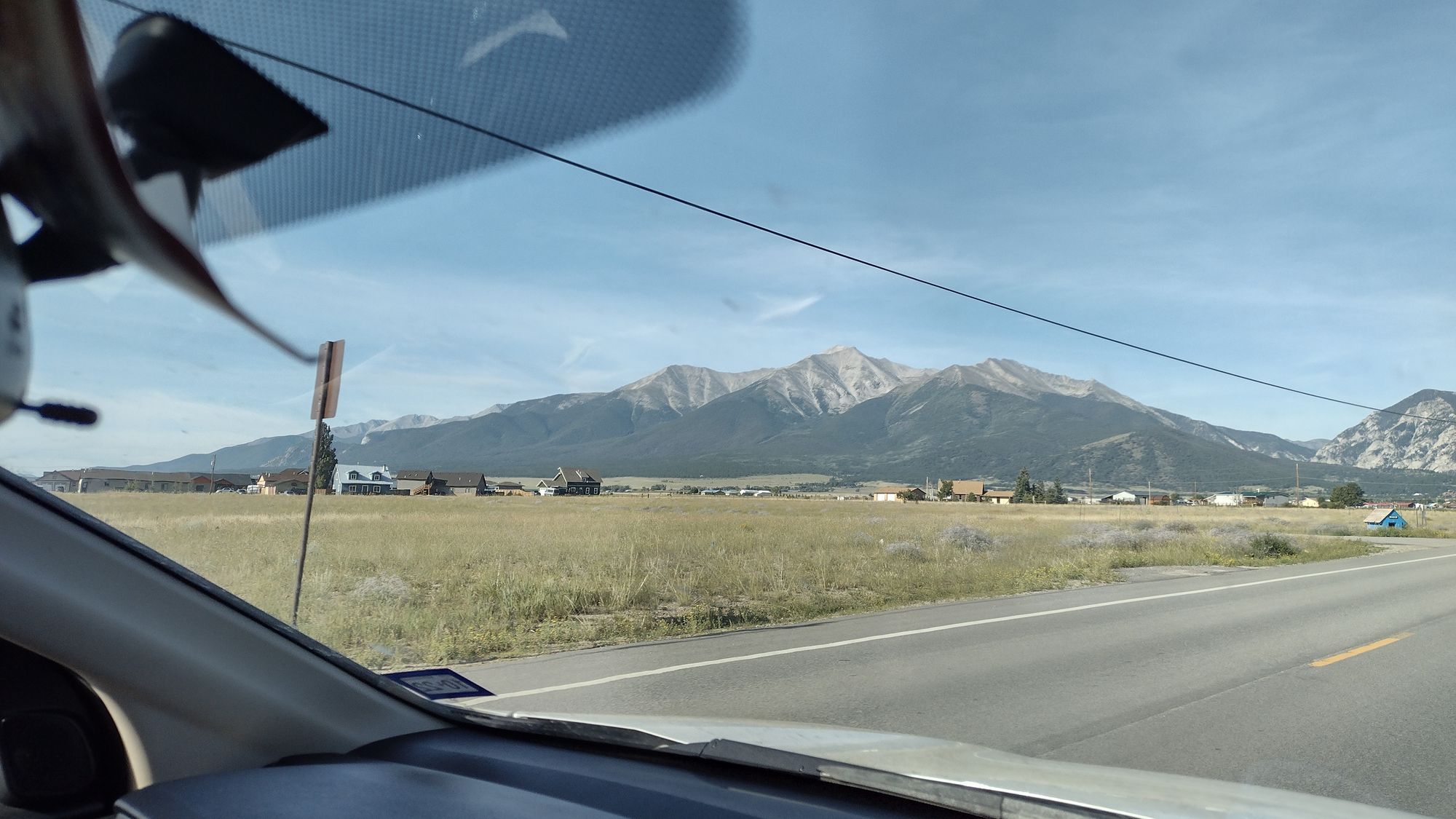 We had unexpectedly good weather.  No rain at all - no afternoon thunderstorms.  Such a difference from a month ago on the Elk Creek loop.  The weather was warmer - the lowest low was 43, and afternoon highs in the 70s.
Sun protection is something I took seriously, but not seriously enough.  I used up the little container of sun screen that I had carried hiking for quite a while and never used.  I have a tan line at my sock, and tan lines under my eyes where my sunglasses were.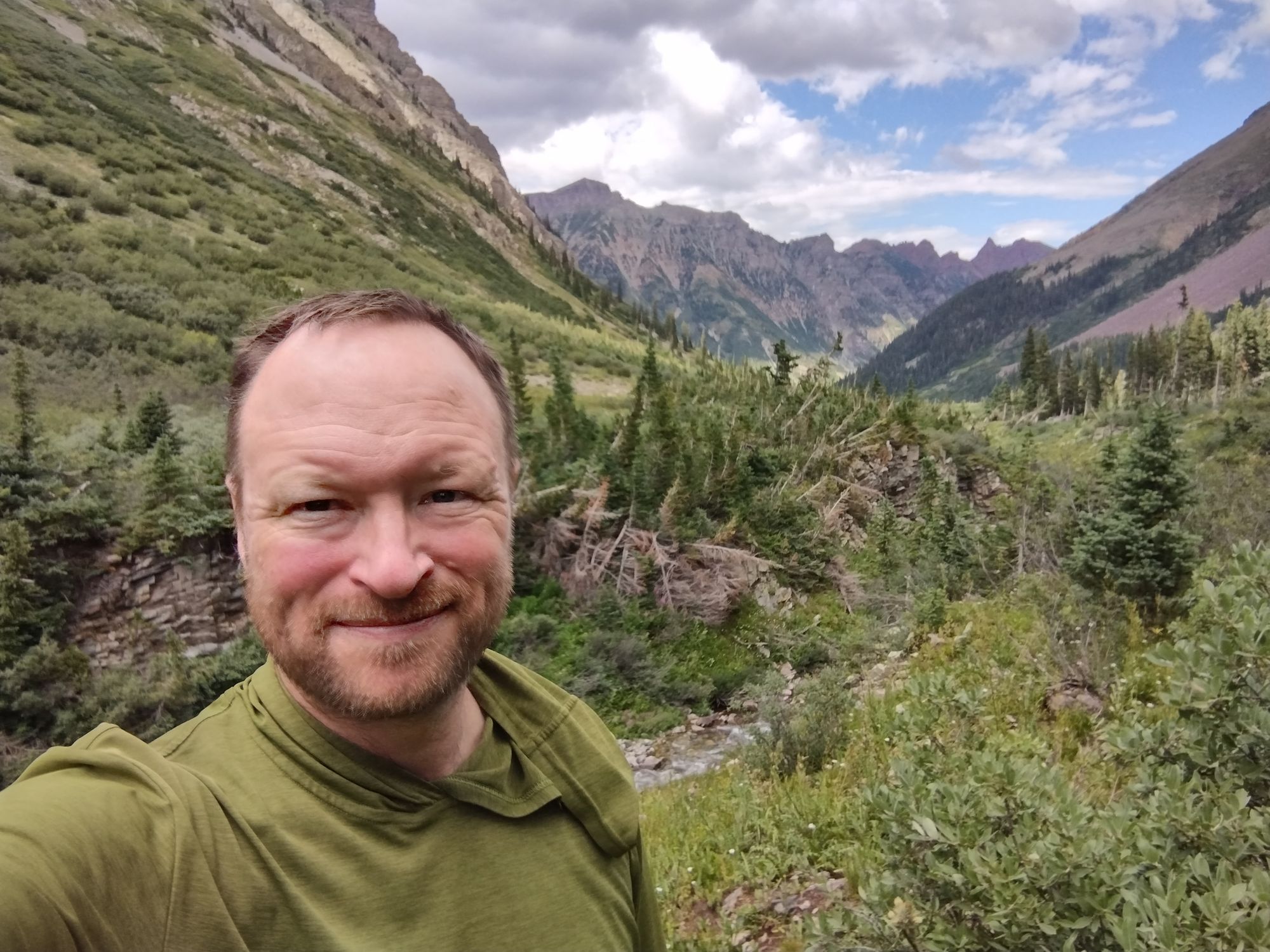 I also used up the picaridin that I had been carrying.  My clothes were permethrin treated and that worked well, but my legs and head were exposed.  Bowman had not treated his clothes.  He was constantly harassed by bugs.
Diamox and training hikes in the heat to build cardio were definitely good moves.  I could feel the altitude, and there was a limit to how fast I hiked uphill, but it wasn't too bad.  We averaged 1-1.5 miles per hour going uphill.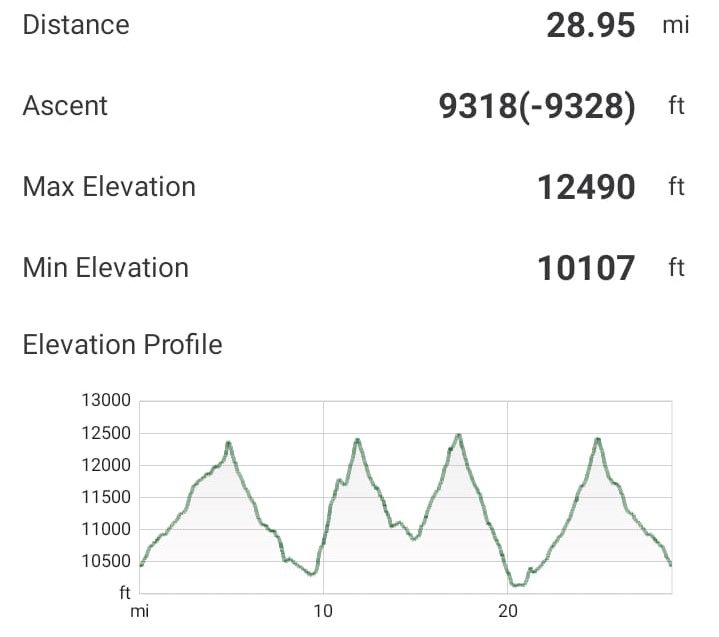 We had 3 gear failures.  The Garmin Inreach, which probably works, but just needs Chris to reset it at his computer at home.  The altimeter sensor in my Suunto watch crapped out overnight on the last night.  Had it for years and love it.  Strange time for it to die - on a trip when it is most useful.  And the grand daddy of them all.  My Uberlite sleeping mat.  I have used this for 2 years and never a problem.  Last time I used it was Memorial day on a trip around Lake Georgetown with Tina Larrabee.  Never had any problems with it. I think it's failure is my fault.  Worse yet, I think I may have destroyed all 4 of my sleeping pads.
You see, I am moving.  I have been packing up stuff and putting it in a storage unit all summer.  I know not to put anything Silicone coated into hot environments as the heat destroys the silicone.  So, the tents and my rain jacket have stayed at the house.  I didn't even think about the sleeping pads.  All 4 of them were in a plastic drawer set that I moved into storage about a month ago.  Worse - they were stacked on top, so they got the worst heat.  And if you didn't know, it's been around 100 or above everyday this past month.  So, yep, totally my fault.
Lots of good discussions on this trip, and many good memories made.  I am looking forward to next month's trek on the Superior Trail with Tina Larrabee .  Until then, I will repair damaged stuff, move houses, and dream of future Colorado trips.
Keep Hiking My friends.