Timmermade Sleep System (Coati Quilt, Overquilt, and Waterbear) Review
Timmermade (Timmermade – Handmade Outdoor Gear) is a cottage boutique for hand-made custom ultralight backpacking gear.  I ordered a 20-degree Coati quilt from them in October of 2021 to upgrade my Enlightened Equipment 20 degree Revelation.  While I have enjoyed the EE quilt, I had read about the almost mythical qualities of Timmermade.  As I started conversing with Dan Timmerman, it became apparent why this reputation was earned.  This guy sweats the details and doesn't take short cuts.  He caters to the Ultralight community.  Each quilt is custom made to your measurements.  He was very forthright with suggestions and explanations.  Yes, his stuff is more pricy than other brands and he has a rather lengthy lead time, but his quality is top tier.
Pictures of Conti quilt from the Timmermade website: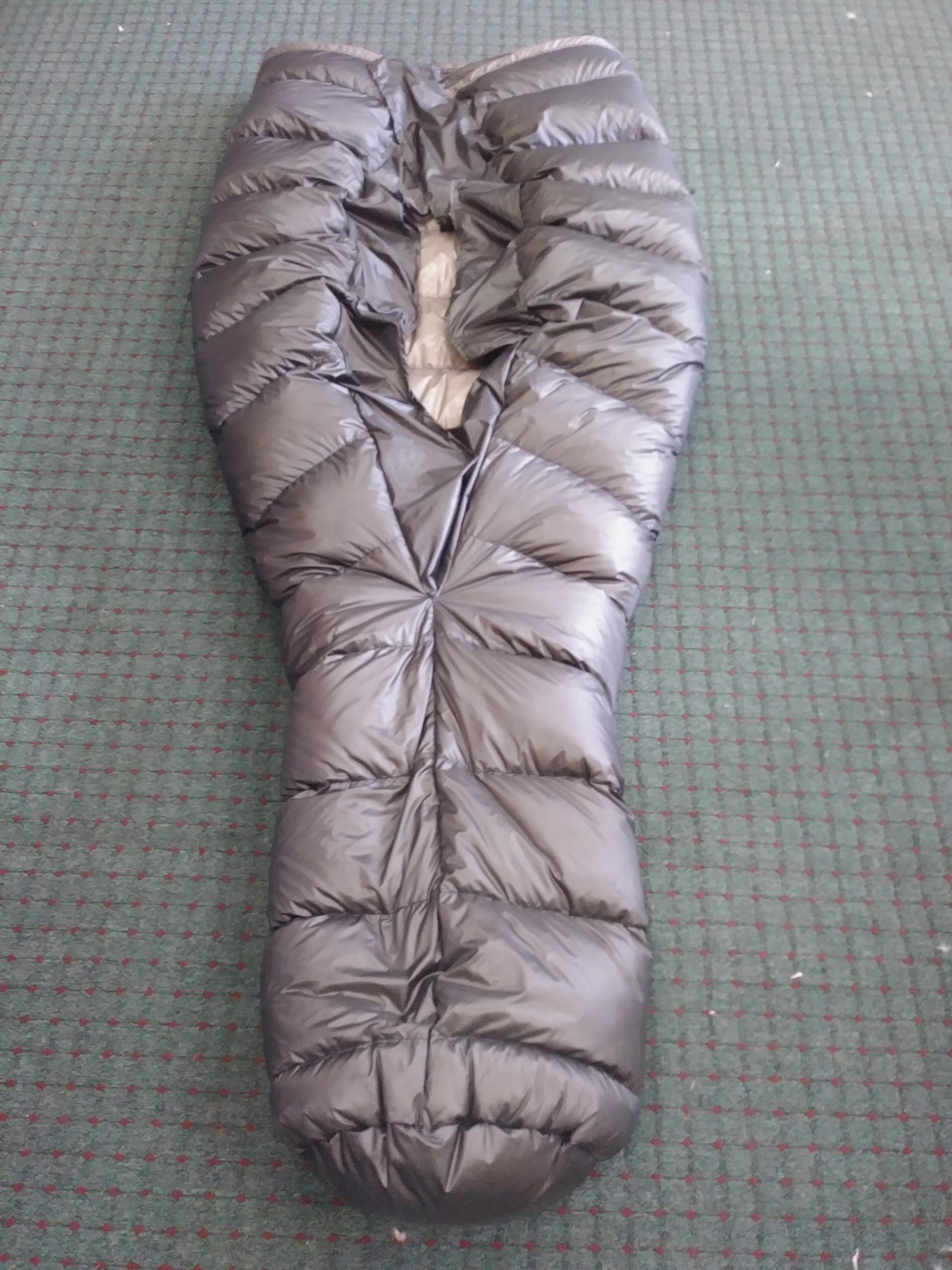 From the Timmermade website:
The Coati Quilt is a traditional quilt style sleep system with draft skirt. The draft skirt is a 7″ wide skirt that drops down from the sides of the quilt to block drafts and allow the sleeper to control the edges in an ultralight feature that adds very little weight. If it is left hanging down it blocks drafts from sneaking in. If the user tucks each side of the skirt under their body it can be used to control the edges and keep them where you want without any drafts entering. It can even function similarly to a false bottom, albeit manually positioned, but with the option of opening up for venting.
It has horizontal baffles, a differential cut, a puffy draft collar, and super dense 160% overstuffed chambers. The top is connected with two snaps and cinched with a shock cord. It is important with any sleep system that it is paired with a sleeping pad rated to similar temperatures. It is especially important with quilts and false bottom bags and it should be noted that pads that utilize empty spaces are generally not suitable for these types of sleep systems.
When he says 160% overstuffed chambers he is not kidding.  This thing is POOFY!
I took Dan's advice and purchased an over-quilt to pair with the Coati.  The purpose of an over-quilt is moisture management.  It allows water vapor (sweat, etc) from your body to condense inside a synthetic layer as it escapes your quilt rather than in the down where it is much more difficult to manage.  This is especially useful in very cold or very humid environments.  Dan describes the physics of this in the "Technology" portion of his website.  The over-quilt also provides an additional layer of insulation, and can be used alone as a light weight quilt for warmer months.  (More about this later.)
Pictures of purple over-quilt to top of an inner quilt from Timmermade website:
Also purchased with the Coati and over-quilt was a "Water Bear" balaclava.  This is a down-filled balaclava that uniquely pairs a synthetic "tunnel" portion around your face so that moisture from your breath doesn't wet out the down.  This hood is manufactured as a separate garment so that it can be used separately with a quilt or puffy, or worn alone.  Such a system provides extra flexibility and overall weight savings.  At the time of ordering the sleep system, I also ordered a SUL0.75 down sweater (puffy), but that will be the topic of a future review.  I ordered all four garments - the Coati quilt, the over-bag, the puffy, and the Water Bear balaclava in a matching forest green.  The modularity of this system was certainly a selling point for me.
Pictures of Water Bear balaclava from Timmermade Website: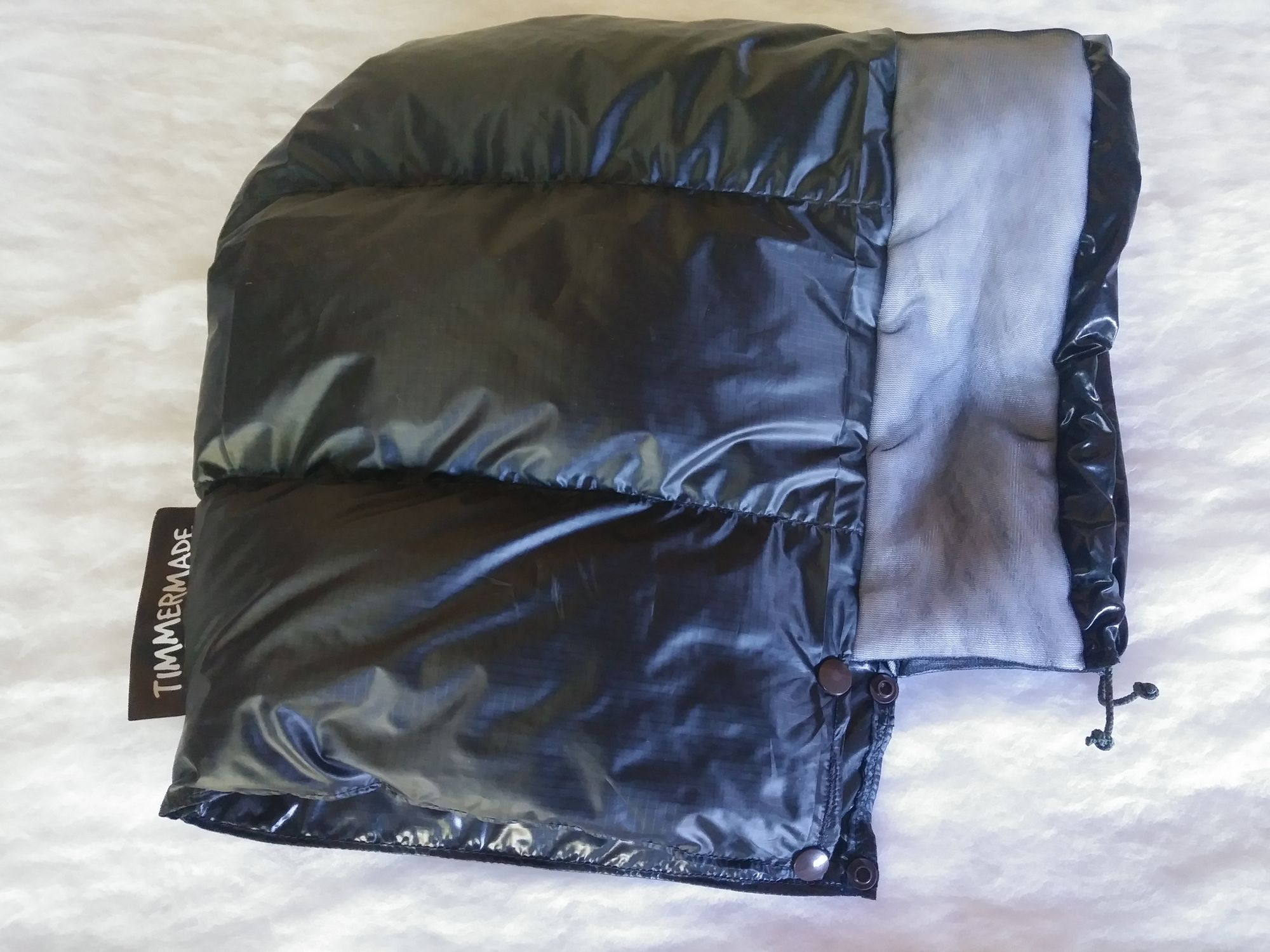 These garments all arrived February 1, 2021, just in time for a quick 26-mile overnighter around the Goodwater Loop in Georgetown Texas with GenXers Chris and Brekken the night of February 5, 2021.  Lows that night were forecast to be 29.  A perfect first test I thought!  I paired the quilt, over-quilt, and Water Bear with a Thermarest X-therm pad (the highest R-value pad Thermarest makes - intended for winter use.)  I went to bed that night wearing no base layers - just regular underwear.  The combination of the Thermarest, the Conti, the over-quilt, and the Water Bear had me sweating, and I have to vent - even at 29 degrees.  Timmermade "comfort" rates his quilts without the need for base layers.  Based on that test, I concluded it was not cold enough for the over quilt.
The weekend of March 3-6 2021 I went with GenXers Rob and Chris to complete the last 30ish miles of the Lone Star Hiking Trail in the Sam Houston National Forest (north of Houston.)  Forecasted lows were 60-70 with dew points of 46-63.  Pretty much summer time conditions for lots of the country.  For that trip I decided to take just the over-quilt to see how it would do as a light summer quilt.  The particular model of over-quilt I purchased is a single layer of Alpha Direct insulation covered by a single layer of  Argon 67 (a wind-breaker material.)  As I was UL for that trip, I didn't have any base layers - just my hiking clothes and a change of socks.  I did, however, bring the SUL0.75 puffy and Water Bear.  The first night (55 degrees) I found that I had to wear the puffy and Water Bear to be comfortable.  The second night I was comfortable with just the over quilt.  I did not record a temperature that night.  The third night (68 degrees) I slept on top of the quilt, only crawling into it in the middle of the night.  All three nights were on a Nemo Switchback closed cell foam pad.
My next opportunity to test was a 2-nighter the weekend of March 11-13 2021 at Lost Maples State Natural Area in Vanderpool Texas where the forecasted lows were 28-29.  Remembering my experience from the February 5th trip, I decided to go with the Thermarest Uberlite and no over-quilt.  The night of Friday, March 11 I went to bed wearing a Patagonia Capaline Air hoody on top, but no base layer on the bottom - just my hiking pants and socks.  In the middle of the night I added the Water Bear balaclava.  In the morning I was thinking I should have probably worn the puffy to bed and the base layer bottoms to be more comfortable.  I was chilly but not cold.  I slept well.  Then I saw my thermometer.  It was 13 degrees!  Wow!  Saturday night I decided to go with the base layer top and bottom and the Water Bear, but nothing else.  The low ended up being 21 degrees.  My base layers were damp with sweat when I got up.  Wow!
Conclusion:
I think Timmermade's "comfort" rating at 20F without base layers is spot on for this quilt - at least for me.  If this quilt is paired with the Xtherm pad, the Water Bear balaclava, over-quilt, and base layers, I think I would be comfortable in single digits, maybe even down to zero F.  Unfortunately, the number of opportunities for me to prove this hypothesis through testing in South Texas are few and far between.
I wrote Dan Timmerman to tell him how impressed I was with the quilt - parroting much of what I have written above.  Here is his response:
Jeez.....you scared me for a bit there. I would have been VERY surprised if you were cold at 20f with that. I consider my current rating to be a pretty conservative "comfort rated for most". Like, even cold sleepers should be comfortable at that temp. There are definitely some folks who are exceptionally cold but I have to imagine that they are aware of their state, even in the mass market stuff. I used to have an even more "dialed in" temp rating that was aimed at being "comfort rated for average" so folks could dial in the amount of insulation they need based on an average person. However, there is an unfortunate vocal minority of traditionalists in the UL community who are very quick to poopoo things on redditUL. They have an outdated approach that uses total fill weight as the main metric for judging warmth in down items. This obviously immediately rules out weight -based innovations because the whole point is to do more with less. Designing a system to be warmer with less down fill is a very attainable goal which I base most of my designs around......but then if you actually succeed in "doing more with less" then the traditionalists shoot it down as "optimistic rating" because all they see is a lower fill weight and fail to understand any of the engineering that went into making that fill do more work. Anyway, I had like 2 loud voices out of hundreds that pushed me to significantly bump my rating system to basically make it dummy proof.
Specifications:
Conti Quilt:  950 FP DWR down.  72 inch length.  Width Top/Torso/Knee/Foot: 50/52/38/38 inches.  Actual weight:  559 grams.  Forest Green exterior, black interior.
Over Quilt: Alpha Direct 4004/Argon 67 Overbag.  Outer - Argon 67, Forest green color.  Interior - Alpha 4004, Olive color.  Actual weight: 387 grams.
SUL Water Bear down balaclava.  Forest Green color.  Actual weight: 48 grams.
Keep Hiking my friends,